Diving in Tunisia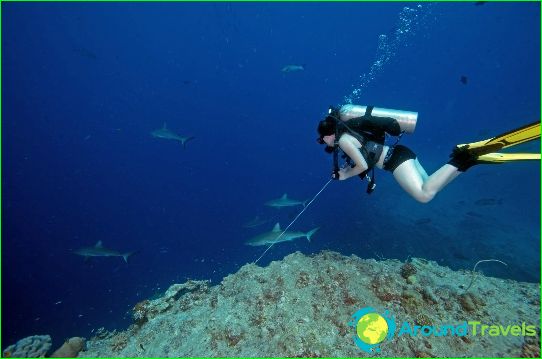 Diving in Tunisia most suitable for beginnersdiving and not too demanding divers. If you are looking for something special, you just do not here. But, nevertheless, an interesting underwater landscape, rich flora and fauna of the Mediterranean will give a lot of pleasant moments.
North coast
This is the most popular place for diving andto be exact - of the coast, located between Tabarka and Bizerte. The water off the coast very clean. The reason is quite simple - the coastline is rocky near-continuous line. The only exceptions are sandy beaches.
Numerous underwater caves, corridors andTunnels have become a habitat for a variety of marine life. But especially interesting as diving is an object passing through the territory of the Mediterranean's largest coral reef. Beyond the usual inhabitants of the coral gardens where you can observe sea bream, eels, octopus. It is not uncommon in these waters and tuna. And there are like tiny young ekzemplyarchiki and huge giants reach a weight of 200 kilograms.
Archipelago of La Galit
Located this popular dive site in 60kilometers from the mainland area and combines six islands. The water area of ​​the archipelago is closed to fishermen, so the water just teeming with various representatives of sea fauna. You can also explore an interesting wreck - gone to the bottom in 1958. The merchant ship.
The peninsula of Cap Bon
The coast line of the peninsula mainlypresented by rocks, but there are sandy areas. This area is most suitable for -novichkov divers because the bottom is shallow and the depth - minimum. Underwater landscapes, as well as the diversity of the inhabitants does not yield the northern coast.
East Coast
Among the numerous reefs and underwater caves life just boils. Starfish and urchins, sponges and numerous flocks of small fish scurry busily among various algae.
Not far from Mahdia immersion can explore several wrecks dating from the Second World War. Here, divers have the opportunity to explore the remains of a military helicopter.
Water Mahdia became famous Jacques Cousteau, who foundhere during his famous underwater walks Roman galleon. Its holds were filled with these treasures, which currently can be seen when visiting the National Museum of Bardo.
Djerba Island
The underwater world of the island waters dramaticallydifferent from the Continental. Here before you spread out the magnificent gardens of gorgonians, and soaring like a bird stingrays, slowly they are sent to a known route.
Photo