Tunisia Flag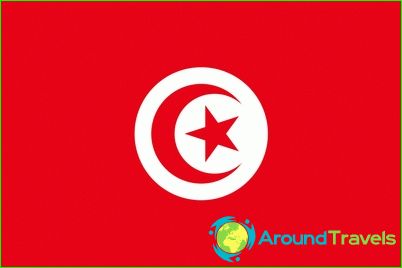 As an integral part of the state symbols of the Republic of Tunisia flag was adopted in July 1999.
Description and proportions of the flag of Tunisia
Tunisian flag - a rectangle whose lengthIt refers to width of 3: 2. The flag is made of bright red. In the center of the rectangle applied white circle, which is the emblem of a crescent, with the three sides covering the five-pointed star. The crescent and star are made in the same bright red as the flag field. Diameter white circle is equal to one third of the length of the flag, and the center of the circle falls on the point of intersection of the diagonals of the rectangle.
The flag of Tunisia, which officially usespresident of the country, located at the top of a golden inscription in Arabic, meaning "For the people." Flagstaff presidential Tunisian flag attached red ribbon to which a white disk with a crescent and a star. The other three sides are trimmed with President flag golden fringe.
The history of the flag of Tunisia
The history of the flag of Tunisia leads with banners thathovered over the ships in the XVIII century. They used red and white, and had in his field a crescent. With the advent of the Ottoman Empire, the flag took the form of blue-red-green tricolor and meant the Turks dominion over Tunisian lands.
Modern cloth national flagTunisia is similar in many respects the red flag of the Ottoman Empire, because the Tunisian bey was for many years its vassals. Tunisian flag differs from the Turkish is the star and crescent are shown in red on a white field, located in the center of the cloth, while the Turkish flag they are shifted to the edge.
In the days of the French protectorate over Tunisiaat the top of the flag adjacent the flagpole, it housed the image of France flag. This went on for several years, and on the modification of the flag of Tunisia, the French authorities themselves are not particularly insisted.
The decision on the formation in 1974 of the ArabThe Islamic Republic, a part of which were to enter Tunisia and Libya, led to the need for a new flag design. He was supposed to be a horizontal tricolor of red, white and black with a crescent and star in the red center of the white field. But the project was not viable, because most of the inhabitants of Tunisia did not support the idea of ​​uniting the two countries.
Finally, the state flag of Tunis was officially approved in 1999.
Photo Tunisia flag