Traditional cuisine of Tunisia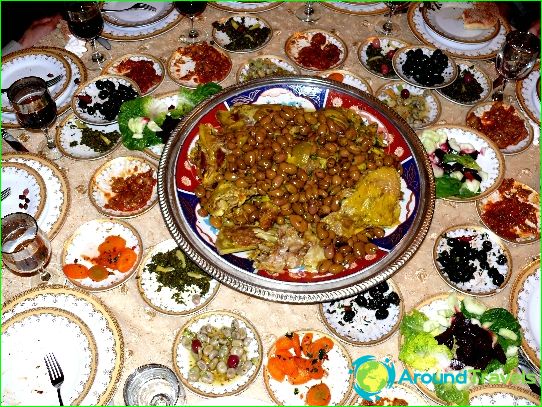 Food in Tunisia is varied: in the Tunisian cuisine uses a large amount of olive oil and spices (turmeric, coriander, anise, cinnamon).
Food in Tunisia
The diet of the inhabitants of Tunisia up vegetables,fruits, legumes, "Harissa" (oil-based sauce, parsley, pepper and garlic), meat (chicken, lamb, goat, beef), bread (pita bread, long loaf), seafood (clams, shrimp, octopus). Their favorite dishes are sweet halvah, candied fruit, candied nuts, cakes and other sweets east.
Tunisian cuisine is a mix of Asian and European, Oriental and French cuisines.
In Tunisia, worth a try "brik" (lamb with vegetables in pastry), shorba frik (mutton soup), mergues (spicy sausage), fricasse (fried sandwiches with peppers, olives and tuna).
Where to eat in Tunis?
At your service:
- Cafeteria;
- Fast-food;
- Restaurant three categories - 1-3 plugs (the higher the number of "forks", the higher category of the restaurant, and therefore, the level of service and variety of food).
If important to you the cost of food, you should know that in Tunisia rather not cheap seafood, so the fish menu in any institution will cost you more.
Drinks in Tunisia
A popular drink in Tunisia are green tea, coffee, palm milk, juices, beer, wine.
In Tunisia, the taste is red, the wine"Chateau mornago" white - "Muscat de Kelebay" Pink - "Vue de Tibar," and "gray" wine - "Gris de Tunisie" (it is made from grapes grown in the sand).
In addition, you should pay attention to: Peach vodka, "Buch" and liqueur "Tibarin" (it is made of herbs and figs).
Alcoholic drinks are available not only in bars and restaurants, but also in state stores General (in the wine departments).
As for soft drinks, then surely you will like mint green tea, which is usually served with pine nuts.
Gastronomic tour in Tunisia
Tunisia will delight gourmets for its cozy little restaurants that serve national cuisine, generously seasoned with local spices.
Lunch and dinner in the Tunisian restaurants, youYou understand that local dishes resemble French, Arabic, Italian and Turkish cuisine: every gastronomic institution in Tunisia will offer you to eat tuna, sardines, dorado and sea bass, swordfish and mullet.
Tunisia is famous for dishes of lamb, so the local institutions be sure to taste the sharp ribs, steaks, grilled, lamb casseroles.
Since many restaurants offer Tunisianits guests enjoy meals, portions of which are designed for two, then the order of soup or meat dishes, it is advisable to ask for cutlery 2 (here normally refer to the fact that 2 visitor eating from the same plate).
Going on a tour of Tunisia, you will have the opportunity to taste a variety of delicious dishes.
Photos national Tunisian dishes