Rest in Tunis in April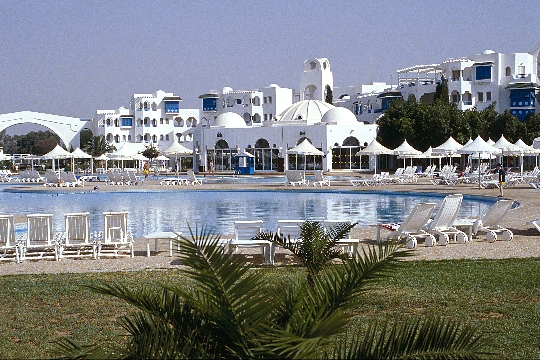 Tunisia has long struggles with Egypt for every tourist,coming to the African continent. It makes it quite difficult, but the Tunisian specialists of recreation optimistic about the future, offering our excursion and recreational programs.
Holidays in Tunisia in April, has its positivehand: comes hot weather that contributes to the acquisition of a beautiful bronze skin tone. Increased water temperature at the seaside, the number of bathers is increasing every day.
Weather in Tunis in April
Spring is in full swing, the thermometer every daymoving higher and higher. In Monastir, Hammamet and Sousse, the figure at +20 ° C level, in the capital of +21 ° C, Djerba +22 ° C. Sea water with a temperature of +17 ° C for some tourists seems like paradise, the majority prefers pools at hotels.
Thalassotherapy in Tunisia
This medical, cosmetic procedureerected in the cult in Tunisia. Is a kind of chip local resorts, it helps to increase the number of those wishing to return youth and beauty. Large hotels erecting thalassotherapy centers, hotels acquire smaller rooms, expanding the lists of services and offerings. Align seaweed wrap with hammam (Tunisian bath), relaxing massage.
At tourists popular bathCleopatra milk-based and sea water with the addition of essential oils of rosemary and verbena. In addition, the procedure is accompanied by a beautiful legends, and aesthetics (design baths with fresh flowers) on top.
Journey to the heart of the Sahara
The greatest desert occupies territory belonging to 11 African countries, including Tunisia, where are organized various sightseeing tours.
The northern part of the Sahara is considered a civilized, that is more or less mastered the tourists. April - one of the best months to visit, as long as the temperature is far from record highs.
Tunisian part of Sahara appears disgusted tourist in all its splendor and diversity. Here you can enjoy crescent-shaped sand dunes and salt marshes, to see the scenery, lit up in the cult films.
Douz welcomes its first touristsventured on a bold step journey into the endless sands. Someone sent a couple of hours, while others brave parted with civilization for a few weeks. For those who want to combine familiarity with the desert and the comfort of living, it is possible to stay in the oasis Ksar Gilan.
Photos vacation in Tunisia