Tunisia Islands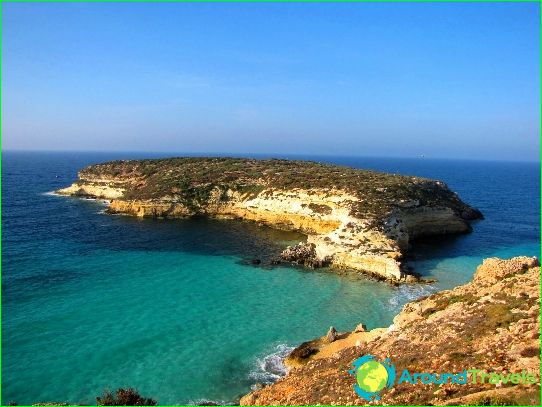 In North Africa, Tunisia is locatedRepublic of the capital Tunis. Its eastern and northern shores washed by the Mediterranean Sea. The land borders of the country has with Libya and Algeria. Part of the territory occupied by the Tunisian savanna and desert. Sea (Gulf of Tunis), washes only one-fifth of the country. Islands Tunisia removed from the land no more than 100 km.
Feature islands
Prestigious and well-known holiday destination in Tunisiais the island of Djerba. It attracts diving fans, as coastal waters are renowned for the richness of the fauna. The bottom is covered with sand and beaches. The island covers an area of ​​about 514 square meters. km, speaking the largest land area in the Mediterranean. The local population consists of Berbers and Arabs. Djerba - a popular resort with clear sea, numerous hotels and white sand beaches. The island is planted with fruit and olive trees, date palms and other plants.
A small but interesting island is TunisiaTabarka. On the mainland it binds sandy strip. In past centuries, Tabarka served as a base for pirates. The volcanic origin of the island are rocky Galite removed 38 km north of Tunis. They are located 150 km from Sardinia. On the main island inhabited by several families of the sailors, and the rest of the rocks and islands are considered to be impregnable.
In the Gulf of Gabes, off the east coast of the country,It is a group of Kerkennah islands. From Sfax port separates them 20 km. The group consists of seven plots of land, the largest of which are Gharbi and Chergui. The islands are known for their dry and warm climate. In the summer it is very hot, sometimes the temperature rises above 40 degrees. Kerkennah - is poorly developed resort destination, so the islands is possible a relaxing holiday. Local beaches are considered ideal for families with children.
The islands are diverse Tunisiathe natural world. On the northern coast of the country to the sea suitable for the Atlas Mountains, which are covered with pine trees. Close to Tabarka is the largest in the Mediterranean Sea coral reef.
Weather
Tunisia is located in the zone of the Mediterranean subtropical climate. Inside the country, there are areas with deserted tropical climate. Weather in the country affected by the Sahara desert and the Mediterranean Sea.
On the coast, the summer heat soften the sea winds. Go for a swim in the sea is recommended from May to October. At other times, on the Tunisian resorts cool.
Photo