New Year in Tunisia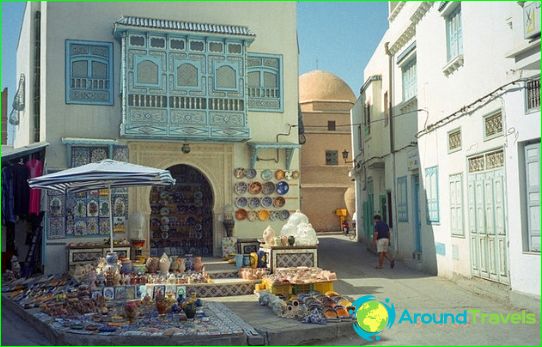 If there is a paradise on earth, it is inwarm areas and overlooking the sea. It serves aromatic coffee with fresh croissants for breakfast, and walking on its green boulevards make enthusiastically beating heart. New Year in Tunisia will allow to see such an unusual place, where mixed exotic and European polish, Parisian chic and oriental comfort, ancient traditions and modern customs.
Secrets of the Medina
As in any eastern city with a rich history,Tunis Medina there. This is - the heart and soul of the market and interest club, a place of walks and the opportunity to unburden himself in the endless bargaining. It is not easy to get out without a guide, but it certainly will be found among the local barefoot boys who are ready for a small fee to show you the way out of the maze.
Wander in the New Year in Tunisia on the market, whichEverything is sold - it is an opportunity to feel the rhythm and spirit of the old town and become the owner of the unique treasures. In Medina, you can find souvenirs made of wood, carved by skillful hand of a master, leather belt embroidered with stones and mirrors, heavy copper Turk for coffee or a vase, decorated with carved plates of bone.
Walking in the French style
Once free, you can catch your breath andcontinue on the Boulevard Habib Bourguiba. In the most beautiful street of the city is especially felt Parisian chic Tunisia. Once a former French protectorate, the country still has not lost the influence of the European patron nice and preserved examples of colonial architecture and customs, from which it is in the shadow of the local figs travelers come in a special delight.
In the New Year in Tunisia to decorate the house andshops, to decorate Christmas trees and cover generously stoly.Sredi main dishes - kebabs and rice, sea fresh and juicy fruit, and, of course, oriental sweets, the likes of which do not know anywhere in the world.
For those who love beauty treatments,a trip on a winter vacation in Tunisia will be an excellent occasion to visit the thalassotherapy salons. Baths, wraps and massages with algae and natural remedies based on them doing miracles, allow to lose a few years and enter into the new year refreshed and full of energy.
Tunisian holidays will be the most stunning impression, because they will help to feel in the beautiful fairy tale - the eastern, exotic and very interesting.

Photos of New Year celebrations in Tunisia