Prices in Hammamet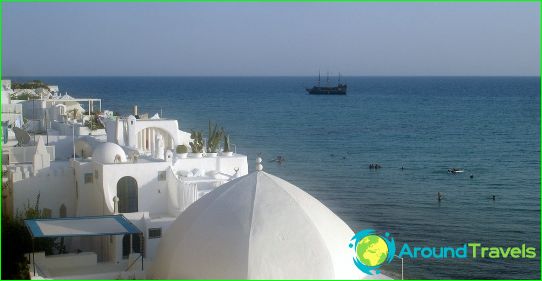 Hammamet is one of the best resortsTunisia. This is a respectable place that is famous for its stunning beaches, entertainment centers, and thalassotherapy. It is possible as a relaxing stay and nightlife. Consider what price in Hammamet on the basic tourist services.
What the money is used
National currency is the dinar. In Tunisia, it is necessary to pay for the purchase dinars. Arriving in Hammamet, you easily exchange euros or dollars for dinars. In the resort you can relax for a little money, if you live in a budget hotel. The average cost per person per day are $ 300-1000. It all depends on personal needs of the tourist. The costs associated mainly with excursions, meals, entertainment and shopping.
Accommodation
Tourist area is divided into the central andNorth of Hammamet. Vacationers also live in the district of Yasmine Hammamet. The resort is perfectly developed infrastructure. Tourists are invited to comfortable hotels with different star. Lived in a room at 5 * can be from $ 150 per night. 2-3 * hotels offering rooms at $ 60-120 per person per day.
Where to eat in Hammamet
Many tourists prefer to eat in restaurantsat hotels. Breakfast is sometimes included in the room rate. Well, you can eat outside your hotel. Popular in Hammamet are Chez Achour restaurants and Pomodoro, offering excellent fish dishes. Dinner for two it will cost $ 20-50. a good bottle of wine will cost $ 9. Expensive meat dish at a cost of about $ 10. In the resort area there are restaurants, which serves Tunisian, Italian and French cuisine. Refreshments can be quite inexpensive in cafes L'Olivier network. In Hammamet stores have a wide selection of products at reasonable prices. Bottle of mineral water sell for $ 1.5.
What to see in Hammamet
Sightseeing tours to the sightsthe resort allows to broaden my horizons. Tourists visit the Ribat and the Old Medina, the ancient fortress, the museum Dar Hammamat and other places. Tour of Hammamet Carthage costs about $ 125 for an adult. For a child tour is sold at half the price. Tours are held on comfortable buses, accompanied by experienced guides. From Hammamet, you can take a trip across the Sahara for 2 days. Cost of the tour is 155 dinars. During the camel riding and jeep have to pay another 55 dinars.
Photo