Prices in Tunisia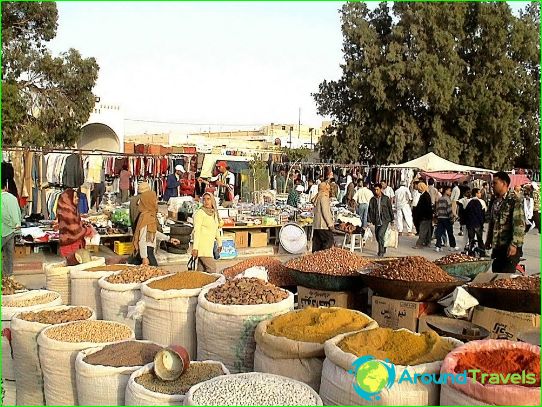 Tunisia - a popular destination for Russiantourists. Today, there are many interesting proposals, programs and routes from the Tunisian tour operators. Going on vacation in the country can be in any season. Prices in Tunisia are low, which makes it even more attractive for tourists. To get to the exotic country can be a direct flight from Moscow, spent only 4 hours. Fascinating holiday there is guaranteed even after the end of the season - tourists visit Carthage and sugar, as well as simply relax on the deserted beach.
How much does a beach holiday in Tunisia
Tours cost inexpensive. The most profitable are the latest offerings in Tunisia. The beaches of the country are equipped with everything necessary for a quality vacation. Umbrellas are available for free. Sunbeds cost 1-2 dinars, or 20-30 rubles per day. If you do not have a towel, then it can be taken at the hotel, paying a deposit of 10 dinars. Leaving the hotel, the tourist receives a security deposit back. Many hotel guests enjoy free towels.
Products and finished food is cheap. For example, the cost of a pizza is 5 dinars, in a sandwich - 3 dinars. Main dishes in restaurants costing a bit more expensive: the fish - 7 dinars per 100 grams of meat - 12 dinars per serving.
What souvenirs can be purchased in Tunisia
Tourists buy handicrafts, leather bags andpurses, clothing in the national style. In Tunisia, you will be offered the olive oil value of 5 dinars per 1 liter, as well as dates. It offers guests shopping centers, markets and shops. Here you can buy a variety of products, but most tourists prefer products created by the hands of local residents: leather things, hookah, clay souvenirs, carpets, spices. Leather tanning excellent attracted many people. In markets such products are much cheaper than in stores.
Things to do tourist
Beaches - a feature of the country. People come here to enjoy the sea bathing. Besides beach holidays and sightseeing, tourists visit talassotsentry. Arriving in Tunisia, you can take a course of thalassotherapy, which takes from 1 to 10 days. thalassotherapy Technology Tunisians have been borrowed from the French. Therefore, there are at high level. Resorts countries offer the same procedures as in Europe, but at lower prices. The number of tourists who wish to visit talassotsentry Tunisia, is not reduced.
Which tour in Tunisia prefer
The most popular tours involve accommodationHotel from 3 days to two weeks. There are tours lasting 21 days. They are perfect for families. Low prices in Tunisia - a factor that attracts Russians. Hotels in the country are concentrated on the coast, on the first line.
Tunis - recreation and tourism
Photo