Water parks in Hammamet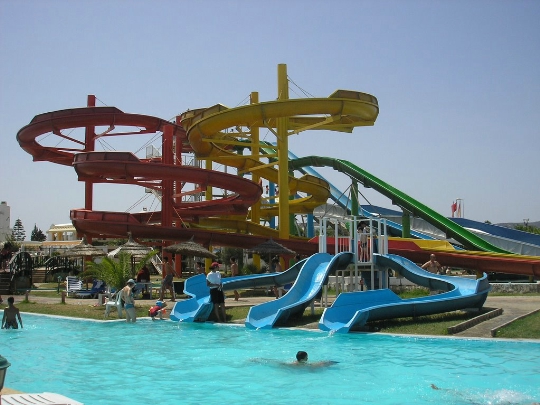 Hammamet offers guests onsandy beaches, enjoy Tunisian cuisine, see the laser show Al Zahra, take a course of thalassotherapy, as well as have some fun in the local water park, divided into 3 complex (designed for 2 adults and 1 - for children).
Water parks in Hammamet
Waterpark "Flipper" is equipped with:
swimming pools and artificial rivers (one of them -with a steady flow, the other - with a fast), in which water is taken from the Mediterranean Sea (it is disinfected and cleaned using special filters);
sculpture of a giraffe, elephant, whale, sea turtle, which can be photographed;
slides for adults "Twister," "The Black Hole", "Kamikaze," as well as a safe and easy slides for children;
pizzeria, bars, restaurants "Seal", "Sun Seth", "Shark", a souvenir shop.
Children are waiting for such activities,like water games and various contests. The cost of an adult ticket - 15 dinars, and children - 10 dinars. It is worth noting that on the day of birth "Flipper" make the birthday gift of a free entrance.
you can go to the water park, if desired"Aqualand", which is located in the park "Carthage Land" entertainment: he will delight visitors slides "Body Slider", "Multi Slider", a town on the water Carthage Tower, pools Piscine Adults, Wave Pool (wave) and Kid's Pool, playground with small slides for children. The cost of visiting the "Aqualand": adults - 17 dinars, children (up to 130 cm) - 12 dinars.
Water Activities in Hammamet
Do you want to pamper yourself daily water treatments? Book a room in a hotel with a swimming pool - in the "Sentido Le Sultan", "La Badira", "Vincci Taj Sultan" and others.
Those who travel to Hammamet because of the beaches, dothe right choice, because they are covered with fine white sand, are renowned for the wide coastline and smooth increase of the sea depth. Since the resort life "revolves" around the beaches, near the hotel you can find stations of water sports, beach bars and BBQ.
Beachgoers recommended to look at the beachesYasmine Hammamet (classic beach holiday on a camel ride + + golf in the vicinity), Nabeul (coastline is surrounded by vegetation, and will be able to relax on the wild parts of the coast), Hergla (+ family vacation together, contribute to this secluded beach and not crowded areas). If you are interested in a secluded beach areas, it is still the only one to be found in the Cultural Centre of Hammamet.
Because off the coast of Hammamet hasDive sites with sunken ships, the diving fans should consult local dive into the water and explore the sunken 40-meter ship times of World War 2 (you can get inside), as well as meet with small fish, sea urchins and stars.
Photo