What to do in Tunisia?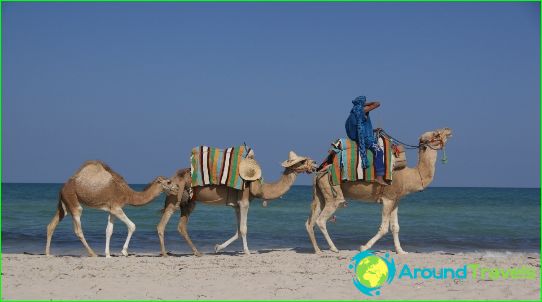 Tunisia is famous for white sand beaches, traditional bazaars, healing thalassotherapy.
What to do in Tunisia?
A stroll through the Old Town, where the narrow streets, mosques, shops, markets, palaces, squares, beautiful buildings;
Go to the National Museum Alaun (Palace of Dar Hussein), to see the Roman mosaics and archaeological finds relating to different periods of the history of the country;
See Hamouda Pasha Mosque;
Visit the Bab al-Bahar (French Gate);
Visit spa-salons in Tunisia to make wrapping curative mud and undergo other cosmetic procedures.
Things to do in Tunisia?
In his spare time is to go to the Oceanographic Museum"Salammbo": here, in the stunning aquarium you will see many marine theme exhibits, learn about coastal flora and fauna of the Mediterranean sea birds.
Arriving in Tunisia for thalassotherapy canuse a variety of programs - from cosmetics to postpartum. Thus, it is possible to cure diseases of the musculoskeletal system, get rid of a bad habit, like smoking, to pass "anti-stress" course. Before treatment begins, a doctor will give you advice, and then prescribe treatment. Important: thalassotherapy course is designed for 1 week with the passage of 3-4 procedures per day.
Golfers can play on special golf courses, for example, the golf club Golf de Carthage, offering tracks for players of all levels, including for professionals.
Beach lovers advisableto go to the best beaches in the city - Pedruchillo and La Goulette (the comfortable beaches are located in ecologically clean areas, and come close to the shoreline directly).
Fishers should advise to go fishing - you can catch sardines, anchovies, mackerel, sea bream, red mullet, tuna.
In Tunisia, you can go diving, renting anecessary equipment to dive centers. Divers will be interesting to visit the 2-day festival Coral (held in September). As a guest you will be able to visit the video lectures, seminars, dive courses, to see the exhibition of photographs from the ocean depths. In these days you can participate in the competition for the best possession of the spear for spearfishing (Festival "Neptune's Trident").
If desired, you can go on a boat trip on board of the pirate ship in the company of true pirates. Duration of the tour - 3 hours.
Arriving in Tunisia, you will be able to combine a beach holiday with rehabilitation, as well as get acquainted with the historical treasures of the local culture.
Tunis - recreation and tourism
Photos where you can go to Tunisia