Tunisia Wines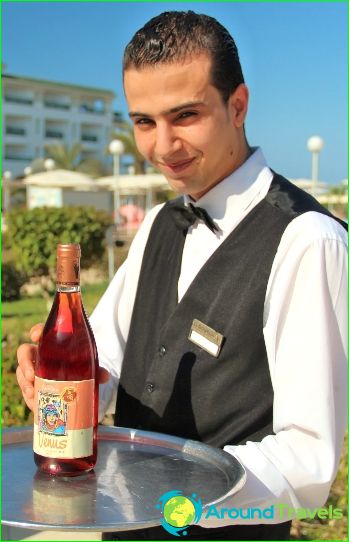 Travelling in Tunisia may seem thatlocal winemakers prefer to see life in pink. This stems from the rosé wines, which account for over half of all produced in the country. Tunisian wines are light and refreshing. They are good, and to quench your thirst after a day of beach, and in order to extinguish the fire caused by sharp regional cuisine, and as part of a romantic evening under the stars Maghreb.
french notes
Being for many years Frenchprotectorate, Tunisia has adopted a lot of the older brother of the glorious traditions. Winery, fortunately, turned out to be one of them. Grapes appeared in these lands during the reign of the Phoenicians in the first millennium BC, but today's winemakers Tunisia take a more modern French technology in their work.
The main varieties of which make Tunisian wine -This red Alicante, Grenache and Senso Claret and white and muscat of Alexandria. The main volume of wine produced in Tunisia accounts for red and rosé wines, with virtually all production remains on the local market.
The famous Tunisian Muscat
The oldest vineyards are located Tunisianon the Cap Bon. This peninsula provides the raw material for the production of wine Muscat sec de Kelibia. Its main notes - a light veil of citrus and floral aromas. It is dry and slightly bitter wine is a favorite and Tunisians themselves, and visitors. It is ideal for all meals in the local table.
The sandy soil of the peninsula and give anotherTunisia famous variety of wine - Gris de Tunisie. It is called the "gray Tunisian" and this wine is perfectly refreshing in the strongest heat. It is inherent in a delicate shade of pink and major notes aftertaste - violets and blackberries.
Fans of the classics
The glorious historical past of Tunisia, itsunique architectural relics and national traditions are reflected in the production of local winemakers. Among the classic red wines that are worth trying in Tunisia stand out "Carthage" and "Mago", the name spoken by lovers of history a lot. Name Mago wore ancient Tunisian agriculturist, in the annals of which remain the most important information about ancient winemaking. Carthage is located on the site of the modern state and that there are two and a half thousand years ago, the Phoenicians were preparing the first wines of Tunisia.
Photo