Alanya Airport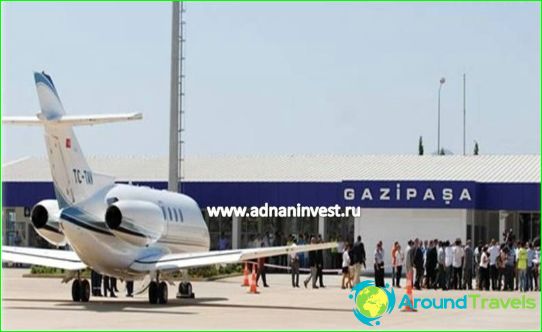 Airport in Alanya on the Antalya GazipaşaCoast international flights opened relatively recently, but has already gained popularity among tourists from around the world. The airport is located just 35 kilometers west from the most beautiful resorts in the country - Alanya, Side, Belek, and a little further from the resorts and Anamur Mersion towards the eastern part of the city. This arrangement makes the airport especially attractive to airlines and tour operators worldwide.
The structure of the airport includes:
artificial runway length of more than 3 kilometers, equipped with the latest technology, which makes it possible to accept all types of aircraft
passenger terminal area of ​​over 2000 square meters
Commercial and economic purpose facilities for maintenance and refueling aircraft
The airline serves more than 30 andairlines in the world, among which are included Russian air carriers Aeroflot, UTair, Ural Airlines, Yamal and others. Daily air harbor receives flights from Germany, Norway, Denmark, Finland, and also serves domestic flights.
Despite the fact that the first international flights fromAirport in Alanya were made only in 2011, the geography of flights the airline is constantly expanding, and each year is rapidly growing passenger traffic.
Tools and Services
Modern equipped with the latest systemnavigation, air terminal building has all the necessary facilities for a comfortable and safe passenger service. Provided with voice and visual passenger information systems on the movement of flights. There are comfortable lounges in the arrival and departure areas, canteens work, mail, free internet. The airport is provided with a port-clinic first aid. In addition, there are separate services for passengers with reduced mobility, provided their support to the meeting and place of residence, provided special transport. Clock security company provides airline TAV Security.
Transport
Getting from Alanya airport to your destination, you can use the services of several types of transport:
Shuttle bus, which is located on the forecourt parking near the exit of the arrivals area
Services City taxi, which can be ordered at the counter inside the terminal, or by phone, while still on board the aircraft
Book transfer
Photos Alanya Airport