Alanya Areas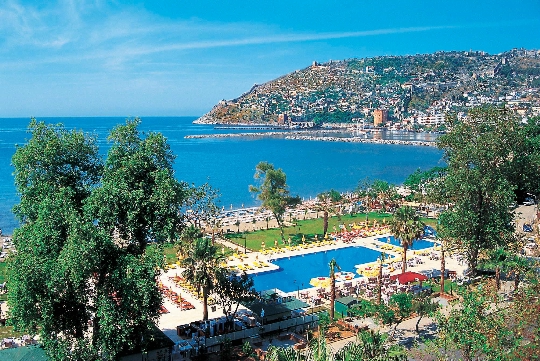 To plan your trip and ensure your pleasant and comfortable holiday, you should take a look at the map and get acquainted with the peculiarities of Alanya district (includes 6 resort centers).
Names and descriptions of Alanya
Konakli: Wednesdays there is arranged a bustling bazaar, where you can buy sweets and souvenirs, taste Turkish tea. A leather goods, if desired, you can get a local two-story store. Konakli offers explore the clock tower and the mosque, walk in the park, where there is a shady pergola, fountains, a playground and a trampoline.
Karaburun: tourists here will be interesting to explore the ruins of ancient cities and Justiniano Alarahan (known caravanserais). Karaburun famous mountain Akdag, as well as clean and clear water that is ideal for divers and those wishing to swim under water. And thanks to the often blowing winds, come here and sailing lovers. The trip here it is advisable to plan not only for the summer, but in the spring, when the bloom Karaburun Nartsissova gardens.
Avsallar: Here visitors will be able to treat yourself to shopping and nightlife, as well as Turkish baths, massages and other spa treatments (local 5-star hotel has its own Thalasso center). In addition, they will be able to go to the rafting tour (Alara River).
Incekum: through the pine forest it is suitable for travelers suffering from pulmonary diseases, gentle entry into the water - for families with children, romantic atmosphere and stunning sunsets - for couples, and water sports - for active tourists.
Mahmutlar: Dimchay famous river and a park, next to which you can get home-made souvenirs from local craftsmen and artists.
Okurcalar: famous for sandy and pebble beaches with a gentle entry into the water.
From the sights of Alanya attentionTravelers deserves Cleopatra beach (famous for its golden sand, suitable for holidays with catamarans and waterskiing children and skiing), water park Water Planet (guests can enjoy water sex, surfing the wave pool, ride with amusement, "Cobra," "Kamikaze" and other ), Red tower (about the history of the city and the tower you will be told in the Ethnographic Museum), Damlatas cave (you can take a photo of multi-colored stalactites and stalagmites).
Where to stay tourists
Tourists who come to Alanya for the clublife, it is recommended to stay in hotels Konaklı - they can have fun in the local night clubs and discos. In addition, there are pebble beaches, but before booking the hotel, it makes sense to clarify the state of the beach belonging to the accommodation facility as often in the water you can find large boulders.
You are looking for peace and comfort? You will approach a means of accommodation in Okurcalar (here settled inexpensive 4- and 5-star hotels). And almost the cheapest hotels with good service quality can be found in Alanya.
Photos Alanya districts