Tours in Alanya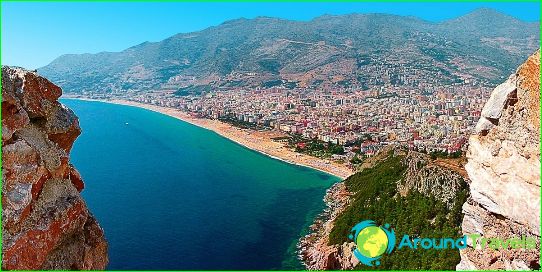 On the shore of the blue and warm sea in ancientTurkey and exotic stretches world-renowned center of a beach holiday, which each year guests are tens of thousands of Russian travelers. Tours in Alanya popular for decades, because the organizers of the holiday at this resort manage to combine reasonable prices, excellent service and a varied entertainment program. What else should be too exacting tourists, for whom every vacation - a long-awaited and vital?
History and geography
The resort is located on the MediterraneanSea 140 km from the airport in Antalya. It was founded over two hundred years BC colonists from ancient Greece. They gave the city the name Karakession and antique Alania became for several centuries a convenient refuge for corsairs in the Mediterranean hunted robbery and looting civilian ships. The Romans cleared the city from pirates, and he came into the possession of Cleopatra, and then became part of the Byzantine Empire.
Participants travel to Alanya can touchancient heritage, a tour of the city. Here preserved castle of the XIII century, built by Sultan Kay Kubad, who ruled the Seljuk kingdom. Open-air museum - a great place for photo shoots in the background stretching to the horizon, blue sea.
Briefly about the importance
Choosing a time for tours to Alanya, it is importantget acquainted with the weather forecast at the resort. The sea and the mountain range surrounding the city, formed a special microclimate due to which it becomes the warmest Alanya resort in the country. In winter there are frequent rain, and the air is heated to +15 degrees. But since the end of April in Alanya will start the beach season, which lasts until late autumn. The average temperature at the height of summer can exceed 35 degrees.
Hotels in the city are designed for very different tastes,but dominated mainly low cost options. Territories of the hotel are small but very comfortable and green, and animation activities are best suited for the young and middle-aged guests.
To get from the airport in Antalya to Alanya tour by bus that arrives at the bus station every half hour.
To diversify a beach vacation, you can buy a tour by ferry to Northern Cyprus. To buy tickets you need for the day before the trip identification for the customs formalities.
Holiday in Alanya
Photo