Water parks in Alanya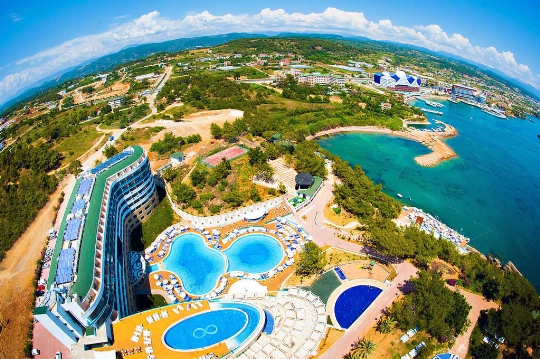 Love the extreme and adventure? There is a water parks Alanya - they will not leave anyone indifferent of his visitor.
Water parks in Alanya
Waterpark at hotel "Water Planet Aquapark &Resort ": he pleases visitors spiral slides and slides, tubes, attractions" Kamikaze, "" Cobra, "" Rainbow "and" Multi Slide "," lazy river, "pools, including children's and wave, fountains, jacuzzi, children's . area with 8 slides wishing to offer to take surfing lessons (they are waiting in the pool with artificial waves), or play a game of water polo, and in the evening - "pozazhigat" at the disco to satisfy your hunger, guests can visit the cafes and restaurants -. at some of them can be safely go with young holidaymakers, as they have a children's menu also, the water park, you can find sun beds, showers, safe, medical cost of entry -.. $ 30 (0-5 years old children - free).
Waterpark at Hotel "Utopia World Hotel": here it is possible to raft on inflatable circles "river", spending time in the pool and relax pool with waterfalls, ride a roller coaster for adults and children (and another for children, a playground with hammocks). The entrance ticket costs about $ 25 (0-6 years old - free of charge). It is worth noting that in contrast to other water parks, here you can come with your drinks and food; and since there are no separate changing rooms, then it is advisable to dress in swimwear in advance.
More hotels in which you can find water parks - "Alan Xafira Deluxe Resort", "Long Beach Resort Hotel & SPA" and others.
Water Activities in Alanya
Resting in Alanya, you should look at the Dolphinarium"Sealanya" - here you can see the 50-minute show, swim in the pool with the "heroes" of this representation (30-minute swim with dolphins will cost $ 125), a ride on a variety of slides (Sealanya Sea Park). In addition, anyone can immerse themselves in one of the pools in which float small sharks (they are not dangerous to humans) - should hire the services of a photographer who under water will do for you a unique photo. Entrance fee can not be called low: adult ticket costs 23 euros and children from 3 years of age - 18 euros. If desired, you can order the daily bag: it costs - 70 euros (included with lunch).
Thought about what to give the beachpreference? Look for Cleopatra's Beach - it is ideal for family and children's activities due to a small depth near the coast and transparent water. But active vacationers are able to ride on a catamaran or water ski.
You - an experienced diver? Take a deep, night, dive into the tunnels and caves, you will by resorting to "Magic Dive" a diving center.
Photo