Areas of Ankara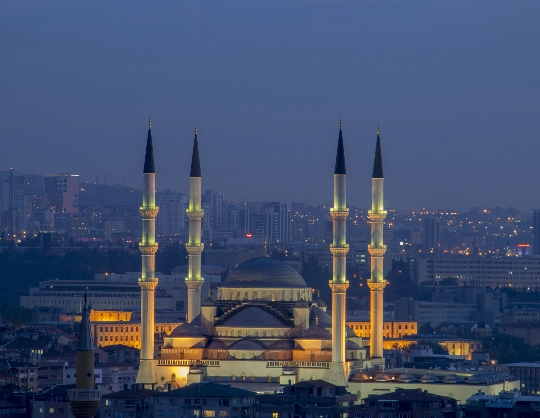 Areas of Ankara can be viewed on a map - there you will see that Turkey's capital is divided into two parts - the Old and New Town.
Name and description of the main areas
Old city: then travelers will find fortress Hicar (to get here will be able to through the gates, an ornament which is a great watch, if you wish, you can climb the tower to capture the photograph wonderful views of the city and today the fortress will be able to visit the cozy restaurants and souvenir shops), Augustine temple and Roma (although the rest of the temple ruins, there are preserved wall, on which you can read about the outstanding deeds of the Emperor Augustus and his sayings), the mosque of Aladdin (a square shape and one minaret; design supported 42 antique columns; here will be able to enjoy the Department for sermons - in its decor delicate carvings) and Haci Bayram (rectangular mosque with two balconies, a minaret, Haji Bayram tomb, the tomb is covered with lead).
Cankaya: an important landmark of the area is Atakule Tower height of 125 meters - there is a shopping center "Tansash", a movie theater and restaurants with outdoor areas (visit the revolving restaurant "Sevilla" - the platform on which it is located, does a 1-hour full rotation around the axis of the tower) .
Maltepe: it is worth to visit the mausoleum of Ataturk (1 every hour at the entrance to the mausoleum is performed changing of the guard of Turkish soldiers) - to enter the tomb, it is necessary to cross the avenue with lions. In the hall visitors will be able to inspect the stones that have been collected from all over Turkey as a tribute to the founder of the country (located next to the museum, looking at that, you can see the personal belongings of Atatürk).
Golbasi: area of ​​interest is found columns of the Roman era and the Bronze Age burial mounds. For tourists are interesting Lake Eymir and Mogan (ideal place for relaxation, picnics and fishing, you can catch a silverfish, trout, pike, perch and other fish species), Cave Tulumtash (its length - 5 km; there are beds of sediments, stalactites and stalagmites) .
Holiday-makers in Ankara worth visitEthnography (Museum offers a look at everyday objects and various glassware, jewelry, handmade carpets) and the Museum of Anatolian Civilizations (tourists visited the exhibition, which exhibited artifacts of the Bronze Age and the Neolithic and the exhibition dedicated to the Ottoman Empire, in addition, The museum displays objects and values ​​of ancient Rome and Greece).
Where to stay tourists
Many tourists prefer to stay in the Oldcity, so if you decide to stay in the area, you will be able to find affordable housing in the form of hostels (35-45 lira / day). Here you can find 3 star hotels (most of them the price includes breakfast and use of Wi-Fi), a room in which guests costs a minimum of TRY 65 / night.
Photos Ankara districts