Ankara - the capital of Turkey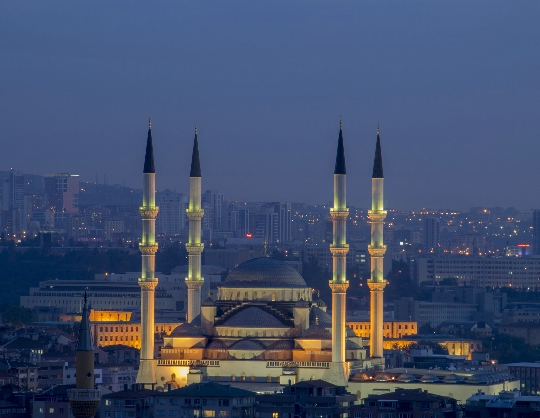 The capital of Turkey, Ankara, - is one of the oldest settlements of Asia Minor. Now here live more than four million people.
City `s history
The exact date of the city foundation is not known, butthe first mention of it date back to the 7th century BC. Then he was named Angira. The twentieth century was the beginning of the political growth of the city. The 20-year Ankara was chosen as the venue for the Grand National Assembly, and 23, the city became the capital.
Ankara Attractions
Turkey's capital combines theculture and architecture of the East and the West, and the territory itself is conditional gradation city, dividing into two parts. The modern part of Ankara - a typical European city with wide avenues, hotels and many entertainment facilities. Its historical center combines the attractions of different periods.
The observation towers of the Citadel, probably the mostinteresting places of the old part of the city, offers spectacular views of the entire capital. Inside the complex is the oldest in the entire city residential quarter, cobbled streets which have retained all the charm of old Ankara.
The next place - the mausoleum of Ataturk,located in the district Maltepe. The new ruler, before taking office, make sure pays a visit to the sarcophagus of the founder of the state. The mausoleum was built on a hill and is a veritable museum of his personal matter.
The city is located and the mostMore Countries mosque. It is a building in the classical Ottoman style. To admire the architecture masterpiece can be, looking at the Kızılay Square. Another mosque, built in the 15th century, up to the present time takes believers.
Augustine Church and Roma, it is unfortunately not come downto our times in the original condition, it is attractive because he was a Christian church. Miraculously surviving inscriptions on the walls are a chronicle of the era of the reign of Emperor Julian.
It is simply impossible not to walk through the museum of Anatolian Civilizations. Here you can follow the evolution of Turkey since the Paleolithic period and until the end of the Roman era.
Former Bath became a place where you will be able to inspectreligious and household items that belonged to the Hittites and Phrygians. The Ethnographic Museum has preserved a unique collection of jewelry, folk costumes and musical instruments.
On one of the busiest streets of the city - Salman( "Copper Alley") - is a huge set of shops of artisans and small shops. Here you can buy any souvenirs that belong to people here craftsmen: vases, decorative folk, cigarette cases, fishnet candlesticks and many other gizmos.
Photo