The airport in Antalya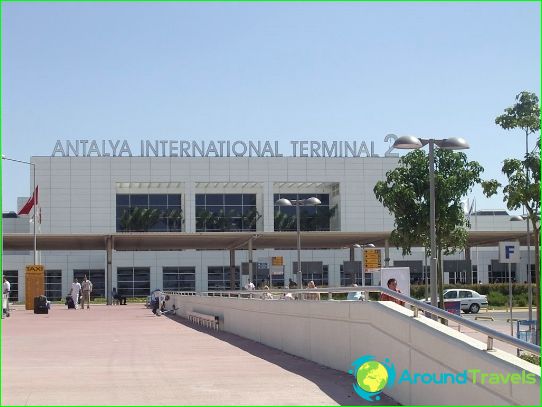 Antalya is one of the main resortRegions of Turkey. Approximately 10 km to the east of the city has an airport, which annually receives a huge flow of tourists who want to relax on the Mediterranean coast. The flow of passengers is more than 19 million per year, with about 80% of them are tourists from other countries. Antalya Airport has 3 terminals, two of which are international and one domestic. There is also a separate CIP terminal, providing the most comfortable stay of business-class passengers.
airport Services
The airport in Antalya or no way inferior to othersThe major international airport. Here, passengers will be able to contact the information desk with any questions. It is worth noting that the staff speaks several languages ​​- Turkish, English, German and Russian. In addition, in the terminal 1 and 2 are information kiosks that enable via video link to ask questions in the departure hall.
For tourists with children at the airport are the mother and child room, and a special play area, located in the second terminal.
Also, the airport offers travelers freeuse luggage carts, which are located in the terminals themselves, and parking on site. The paid services are included - luggage packing and storage.
If necessary, passengers can take advantage of medical services.
At the airport, there are representations of various banks and ATMs to withdraw cash. In addition, tourists can exchange currency exchange office.
And, of course, in airport terminals there are shops Duty Free, which offer a wide range of goods. You can also have a meal in the many cafés and restaurants.
Transport connection
From the airport in Antalya to the city can be reached in several ways, the most popular of them - it's public transportation. You can also rent a car.
Every half second from the local terminal, andbuses that pass through the city center. The final stop - the bus station. Ticket price will be about $ 3, and the travel time - one and a half hours.
A little further is a taxi rank. Taxi services are available to tourists around the clock. It is worth noting that the price of the trip may be higher at night than during the daytime.
Photos Antalya Airport