Attractions in Antalya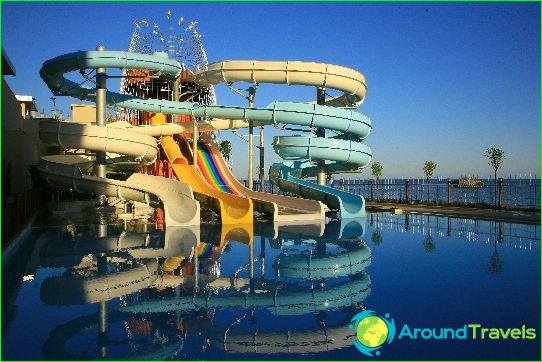 Antalya - the largest and perhaps the most famousResort in Turkey. This city is rightly considered a paradise for travelers because actively investing in tourism here began back in the 70s of the last century. At the same time there is literally everything created for the guests, so that each of them feels like home. Now the city continues to grow and is one of the leading in the country. So everyone who wants to see something more than a hotel and its surroundings can safely go to independent travel around the city and visit all the attractions in Antalya.
Lunapark in Antalya
A great place for outdoor activities. Moreover, the level of attraction here is that the fun is for families with kids and young people, thirsting extreme. Total can be found here: the traditional carousel and swings; roller coaster; extreme rides; Ferris wheel; 4D and 5D cinemas; mazes; Fear of the room.
In general, it is enough to hang herenot for one day. From other amusement parks is characterized by the fact that payment of attractions here made their home currency - special tokens, which are sold at the entrance. So you should just count how many attractions you plan to visit, so you do not run for new tokens or vice versa, do not overpay for the excess. At the moment, the price of ten tokens is 30 lira (about ten dollars).
Water Parks "Aqualand" and "the Dedeman"
At the moment are practically twins. Tarzanks, swimming pools, steep and gentle hills, Extreme water attractions, jacuzzi, paddling pool for children - in short, everything you need for an active recreation.
Schedule them identical: from 10.00 to 17.00. Cost of the ticket is also the same 35 lire per adult and 19 per child ticket. Also, everyone has a website, but at the moment they are inactive and, most likely, their reconstruction will be delayed for a long time.
Ballooning from Balloons Antalya
Popular activities in Antalya. On average, one hour flight will have to pay $ 205 for two - $ 320. Allowed to fly well and children over 6 years old, so this game is well suited for families with children. The company provides full service. After signing the contract the customer only have to wait until it will reach all, and then drive up behind him in the hotel and driven to the take-off area.
Orders are accepted around the clock by phone or on site www.anatolianballoons.com
Photos attractions in Antalya