The beaches of Antalya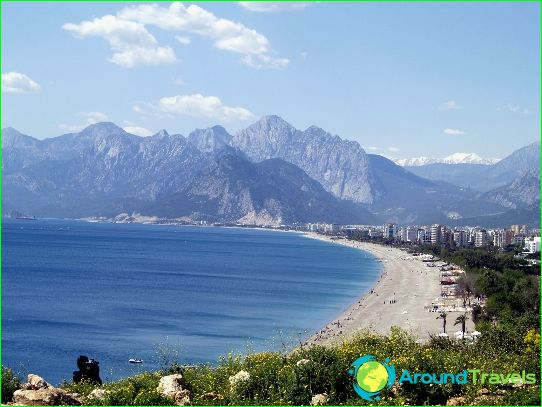 Resort cities of Turkey beckon to their homestourists from all over Europe. The proximity of the majestic Taurus Mountains well regulate local climate and create a magnificent view. In winter, these mountains prefer to conquer the lovers of adventure, and in the summer you can sunbathe and enjoy the clean mountain air, the singing of birds.
Antalya's beaches provide a wonderful opportunity to rest and gain strength, substituting face soft rays of the sun, and the body - tongues gentle waves of the Mediterranean Sea.
Paid and free opportunity to relax
Local beaches are divided into two broad categories: free and paid.
Free beaches of Antalya, as a rule, areto a certain coffee shop or hotel. Of course, these beaches impossible to meet the waiter, but the rest of the experience is not spoiled. It is best to come with its own umbrellas and sunbeds or mattress.
Pay is considered to be equipped beaches of Antalyaby the very highest level. Vacationers can rent anything, even beach towels. Of course, changing rooms and toilets, as well as numerous bars and restaurants available here in amazing quantities. The cost of renting beach equipment on these beaches is in the range of 5-8 pounds. Beach service VIP class is available for travelers at a price of 10-50 pounds.
The most popular beaches of Antalya - is the following:
"Lara";
"Konyaalti";
"Topcu";
"Beach Park";
"Adalar".
This rating is based on the experiences of tourists who had the good fortune to visit at least a few resorts in Antalya.
Beach "Lara" - a favorite place of Russian
The best sandy beaches of Antalya differother kind of infrastructure and landscape. Beach "Lara" Russians are very fond of, so you can meet them almost all year round. The beach stretches on rocky shores, but is covered with pure white sand. It is 12 km from the city center, so to get to the "Lara" is possible even on public transport. Local surf is very gentle and very picturesque views. In addition, on the beach and regularly hosts outdoor concerts.
Beach Park - option for fans of fuss
As the Beach Park is located very close to thethe city center, it can be called a real center of the local beach break. The beach is in a kind of triangle between the Museum of Antalya, a water park and the Sheraton Hotel. Happy tourists are quietly resting, and at night discos are held with the best DJ's coast. On the territory of Park Beach everyone can find entertainment for your taste, but this is best place for those who like to relax actively, to find new companies and try new forks alcoholic cocktails. A large number of paid beaches, which operate on Beach Park, will make the holiday truly unforgettable.
Photos Antalya beaches