Holidays in Antalya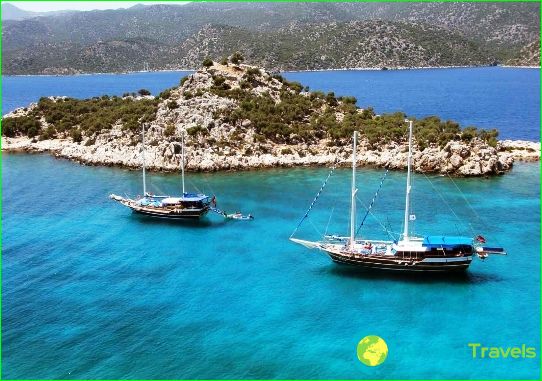 Holiday in Antalya - a hotel and entertainment complexes, nightclubs, shopping malls, luxury villas and the ruins of the medieval bastions, parks and first-class beaches.
The main types of holiday in Antalya
Sightseeing: within the framework of the programs of excursion, you will see Hidirilik Tower, Hadrians Gate, Minaret Eveleigh, mountain Tyunektepe, visit the Archaeological Museum, the waterfalls Duden, in a park of miniatures "Mini-City", walk in the park Karaalioglu (there is a tangerine grove, fountains, sculptures) and the area of ​​Kaleici.
Active: Active tourists can enjoy themselves in nightclubs "ClubArma" and "JollyJokerPub", spend time in the water parks "Dedeman" and "AquaLand", oceanarium "AntalyaAquarium", rafting, canyoning, scuba diving, surfing, trekking, sailing.
Beach: pay attention to the Beach Park - the day where you can peacefully rest, and in the evening - fun for incendiary parties. This sandy beach - a perfect place for leisure guests with children (clean water, gently sloping entrance into the water). It is worth noting that a number is a park equipped with tables and barbecue (you can have a picnic). Those wishing to relax on the pebble beach should look at the Konyaalti beach - here you can hire a "pill" or a jet ski, and beach volleyball.
Event: Antalya is worth visiting during the Flower Festival (May), Festival of Opera and Ballet (June), the Honey Festival (August), Antalya festival dedicated to the culture of the city (September) Film Festival "Golden Orange" (September).
Prices for tours to Antalya
The best time to visit is considered to AntalyaMay-October. The most expensive things to do in Antalya implemented in June-August. But if your goal - to get favorable vouchers, go to the Turkish city in the low season (December-March), when tickets prices are reduced to the limit (you can see the sights and go on a profitable shopping). Arriving at Antalya in winter, you can relax in the located near the ski resort here "Davras" (it is located a 1.5-hour drive from the city).
On a note!
At the entrance to the mosque and homes must betake off your shoes, and before the tour - to pay particular attention to its addition (in the territory of many tourist attractions, dressed in an open and bright clothes, do not let). Prior to many places of interest can be easily reached by bus or taxi (you can catch the car on any street, but it is advisable to negotiate the price before boarding).
Waiters in cafes and restaurants, it is advisable to leave at the "tea" 5-10% of the total order. In addition, small cash reward is appropriate to leave the maids and porters at hotels.
In memory of the holiday in Antalya is bringing oriental sweets, spices, jewelry, a Turkish rug, fur and leather products, pottery (jugs, plates, cups and saucers).
Antalya
Photos vacation in Antalya