Shops and markets Antalya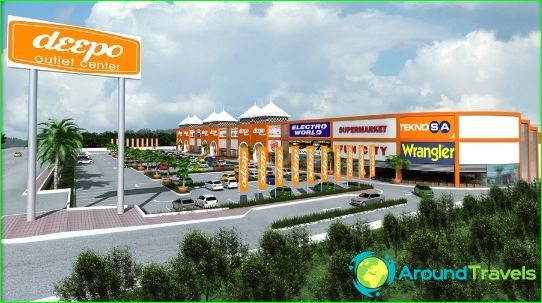 Shopping in Turkey and, in particular, in Antalya -the perfect complement to rest. Places for shopping here do not count, low prices, quality products can be different, we must be alert. As currencies are accepted euros, dollars and the Turkish lira. But before this currency to pay, it should be a good bargain. In the markets and small shops is not superfluous to availability with a notebook and pencil for this process. In large sales centers to bargain does not work, but to get a discount for paying in cash - real.
shopping streets
Gulluk Street - one of the central streets of Antalya. All of the first floors of buildings brought to the shops. This street - a great place for shopping things Turkish manufacturers. Prices are low, the choice of products is vast. It is easier to say what is not here, but rather small. Little shops with leather goods and goods for children. There is only one store with children's goods - "Waikiki". The street is well-groomed, the day attracted the attention of numerous pots of flowers, night - multi-colored illumination.
Ataturk Street - this street is often in conversationcalled "Ishkelar", but if you use the navigator, accurate information for it is still the name "Atatürk". It has a few nice shops with leather goods. One of them offers bags and accessories. From famous brands prototypes local bags can not tell, can only bring incredibly low price for the idea of ​​forgery. Quality leather, stitching, logos and even confirming the authenticity of the documents - above all praise. Children's clothes here more than Gulluk there and "Waikiki". In general, the quality of things to Ataturk above, respectively, and the price a little more. The street is located next to the old town, so after watching the attractions run away for shopping is not necessary, all nearby. The only difficult to park the car here - cramped and crowded.
Shopping centers
In almost every area of ​​Antalya has ashopping and entertainment center. They have everything you need for a comfortable shopping - restaurants, cafes, cinemas, children's playgrounds. Discounts on individual product groups can be found here at any time of the year. Shopping centers offer a huge selection of items for all occasions. Clothes Turkish and international brands, handbags, shoes, accessories, electronics, jewelry, foods.
Especially popular with touristsTurkish leather products. In Antalya them profitable to buy it in large shopping centers, and specialty stores are not for tourists, where prices will be specially zavyshennye.Lyuboy respecting center has a large department with fur coats, sheepskin coats, leather jackets, bags.
The most popular shopping malls: Ozdilek, TeraSiti, Migros, Depot and the new six-story Mark Antalya.
markets
As in any city of the eastern markets in Antalyaimpregnated with a special unique atmosphere. In the markets you can buy dried and fresh fruit, vegetables, sweets, spices, cheap clothes. In every area of ​​our market, and it can work only a couple of days a week.
Sharampol Market is located in the city center onSharampol crossroads and Sokullu. Despite the fact that this is the city center, tourists here a little, and prices are low. Here they make their purchases locals. On the first floor are trading products, while the second - clothes, shoes, bags, sunglasses, bed linen. The quality of the goods are different, you can buy outright nonsense, and it is possible to find the real thing.
Photos Antalya stores