Tours in Antalya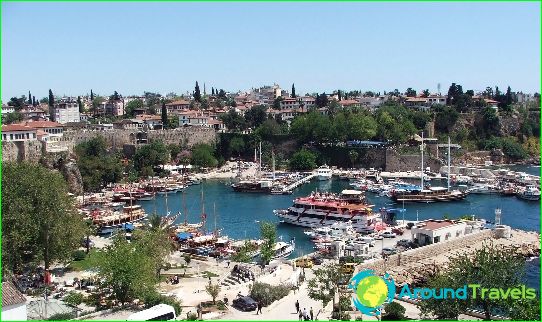 The population of the capital of the Turkish resortincreases in the holiday season almost doubled since tours to Antalya buy every summer for at least a million people. Founded in the II century BC, Antalya has long been a possession of the ancient Romans, and even served as the residence of the Emperor Hadrian.
Briefly about the importance
The subtropical Mediterranean climate in the cityIt provides a dry and hot summer on the beaches of the resort. But in the middle of autumn begins cloudy and rainy weather continued until early April. The best time to travel to Antalya - late spring or early autumn, when there is intense heat and the increasing number of tourists had not yet arrived or already parses bags home.
On the comfortable swimming in the sea Antalya do not expect early May, when the water warms up to +20. By late October, the sea again becomes too cool to swim.
Winter sports fans can bookTours to Antalya at the time of the Christmas holidays. Just 40 kilometers from the city is a ski resort with slopes quite a decent level. Prices for hotels, equipment rental and lift favorably to the alpine.
Unlike other beach resorts, the historic center of Antalya is of interest in terms of well-preserved architectural attractions.
Hotels in the resort of work as the system "allinclusive ", and simply take the guests. In the city well-developed tourist infrastructure, and therefore beyond the selected Hotel territory for excursions, walks or shopping can be and should be.
Come on, do not be stingy!
During the tour, many travelers to Antalyago to the local markets to buy jewelery or leather goods. The city opened dozens of modern shopping centers and small shops, where you can choose any decoration or order the product to your liking. Sheepskin and leather jackets sold in the resort of wholesale and retail, and because tours in Antalya often booked and the owners of the trading business at home.
The cultural component
Diversify beach relaxation during the tourAntalya possible excursions to the historic city. Here are preserved ancient Roman buildings, such as Hadrian's Gate. A hallmark of the Turkish resort is rightly considered Yivli minaret built in the first third of the XIII century.
Antalya
Photo