Water parks in Antalya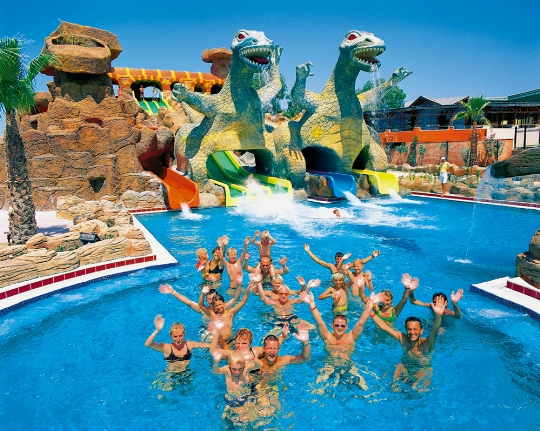 Resort vacation is hard to imagine without visiting water parks - Antalya water parks may well become the unforgettable places of recreation for the whole family.
Water parks in Antalya
Water park "Aqualand": it is equipped with massage rooms; a cafe; Jacuzzi and Vitamin-bar; shops; a variety of attractions in the form of a children's pool and a pool with artificial waves, a waterfall and grotto; descents Hydro Tube, Giant Slide, Twin Twister, Black Holes; showers and a safe to store belongings and documents. In addition, there are available activities such as "travel" on the boat "Crazy River" and "Lazy River", entertainment shows for adults and children (they are held during the day). And lovers of nightlife can have fun in the water park within the dance show "Diskolend". If desired, you can protect yourself from an accident (the service is free). As for the cost, the adults for a day of stay in the water park will pay 50 liras (half day from 14:00 - 35 lira), and 7-12 year olds - 30 pounds. Important: the territory of the "Aqualand" is prohibited to bring food and drinks.
Do not deprive the attention being onthe water park Dolphinarium - a great chance to please themselves and their children to view the exciting ideas involving seals and dolphins (adults pay-per-view show 32 lira, preschoolers - 18 lire, and school children - 22 lira). For example, the "actors" play ball with the coach and the guests, jump high and through the rings, "engaged in" ear training (demonstration of knowledge of musical notation). Even here it is possible to get a picture painted dolphin (this action - the final stage of submission) at auction. Well, for a fee wishing to offer swim with the dolphins (5-minute pleasure will cost 180 lira).
Waterpark "Dedeman": It offers a complex with artificial lakes, swimming pools, water slides (look at the "Tarzan" and "Superkamikadze"), fountains and bridges. And yet there is a garden of tropical plants, and visitors can take part in mini-disco (dance invite guests directly into the pool in which artificial waves rise for thrills). As for the cost, the guests of the hotel "Dedeman Antalya Hotel & Convention Center" lucky enough to visit it for free, but with all the other charge a fee of 42 lira / full day (25 lire / 4 hours), and a children's ticket will cost 22 lira.
Water Activities in Antalya
Vacationers in Antalya is to stay on the beachesBeach Park (day - a peaceful afternoon, evening - discos) and Lara (infrastructure + regular organization of public concerts).
Find water parks and hotels can be - their lodgers stay there cheaper. One such is the water park, for example, in "Botanik Exclusive Resort Lara".
Photo