What to do in Antalya?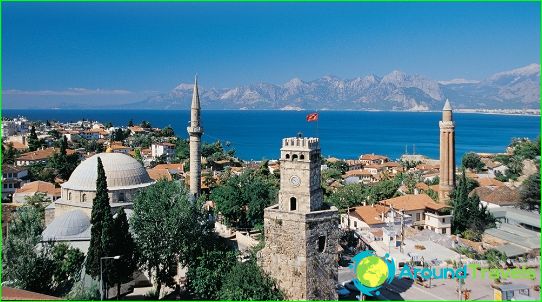 Antalya - is a popular and beautiful resortTurkish town, which boasts a convenient seaport, first-class hotels, beautiful marina, tree-lined boulevards, palm trees, flowers, wonderful climate and beautiful beaches.
What to do in Antalya?
Visit Karaalioglu Park (as it isat high altitude along the coast with cliffs, you can admire the views opening up from here to the city, the bay and mountains), as well as here are restaurants and a mini-zoo;
Look at the symbol of Antalya - Yivli minaret (it was built in the XII century during the reign of Sultan Aladdin Keykubat);
Admire the major historical sites of Antalya - Hadrian's Gate and Hidirilik Tower;
Visit the main natural attractions of Antalya - Duden waterfalls (here you can climb to the observation deck and see the caves);
Fun in the water park "Aqualand";
Visit at sunset Republic Square, where the musical fountain show takes place on a regular basis.
Things to do in Antalya?
Antalya offers excellent opportunities forfans not only a beach, but also leisure: here ideal conditions for surfing, diving, rafting and sailing. In addition, there will be able to ride the water rides, catamaran sailing, water skiing, go on a sea voyage on a yacht or a boat. As for the beaches, the pebble beaches you can find in the regions and Konyaalti Liman and golden sandy beaches - in the Lara area.
Resort town of Antalya and enjoy history buffs: there is a - examination of mosques and minarets built in different historical periods, as well as the ruins of ancient cities and ancient temples.
For a lively night life will be delightedon holiday in Antalya - at night there are bars, discos, pubs and clubs, offering its guests to listen and dance to live music, the rhythms of hip-hop, rock, techno and even pop music.
If you go on Kaleici street, you will findmany clubs that will delight you with interesting dance numbers, exotic oriental dances and musical performances. Fans of rock music and dancing till the morning, can go to a nightclub "Ally's". If you consider yourself a stylish and pretentious man, go to the trendy and stylish club "Inferno".
If you are interested in the opportunities for shoppingAntalya, you should go shopping, where you can get textiles, cashmere, leather, gold and silver, Turkish rugs (the most famous shops you will find on the street Ataturk).
Antalya
Photos you can go in Antalya