Where to go with children in Antalya?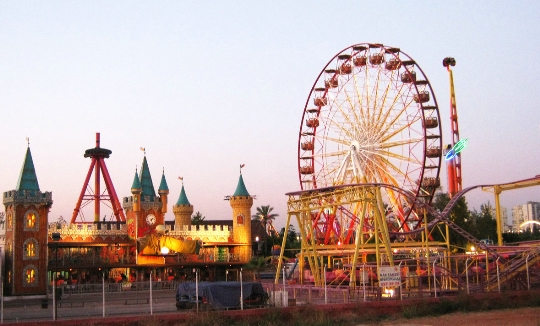 Family vacation in Antalya is verypopular among Russian tourists. At the resort you will find a lot of entertainment for a child of any age. Where to go with children in Antalya, see this article.
The most popular activities for children
Cultural Center of the city is the areaKonyaaltı. Familiarity with its sights takes more than one day. Near the shopping center Migros is Luna Park. Opposite him - Sunny house, supplying the energy of the sun nearby objects. This building made of glass, in which grow a variety of plants.
water park is also located in the center of Antalya andDolphinarium. Children are delighted Antalya Aquarium, which contains all kinds of marine creatures. It is the most impressive in Europe tunnel. Overhead, visitors float stingrays, sharks, and other representatives of the underwater world. Aquarium was opened not so long ago, but has already become very popular.
Near Antalya stretches Park Yurkskogothe period in which you can find dinosaur made in full size. Exhibits move and growl, so many children are frightened at first. Dinosaurs are made of soft-touch material, they can be touched. For the best entertainment of the resort include a show held in the dolphinarium. Programs lasting about 1 hour run in the morning and evening. For children and parents are the seals, dolphins, beluga. Rich and bright show is causing a storm of emotions among the audience.
Walking around the city
Where to go with children in Antalya tourists wholike cognitive rest? To gain new knowledge, set out to explore the resort's attractions. In the city Archaeological Museum, where you can see the unique sculptures, sarcophagi, statues and icons. To work around its territory, it will take at least three hours.
An interesting point is the old district of Antalya. There are old buildings, narrow streets, shops with antique bagatelles. Not far from the old town you will see the Singing Fountain. Every evening they dance and sing to different tones. All this is accompanied by the beautiful lighting.
Walking around Antalya, be sure to visit the picturesquePark Cam Piramit Park, located next to the Archaeological Museum. It is made in the form of a huge pyramid, in which organized the conference and exhibition. The park has a walkway with a movie-posters of the best Turkish films, ponds, fountains and cafes. A popular holiday destination in the city is the Ataturk park, spread out along the steep coast. There you will find many restaurants where you can taste the masterpieces of Turkish cuisine.
Photo