Beaches in Belek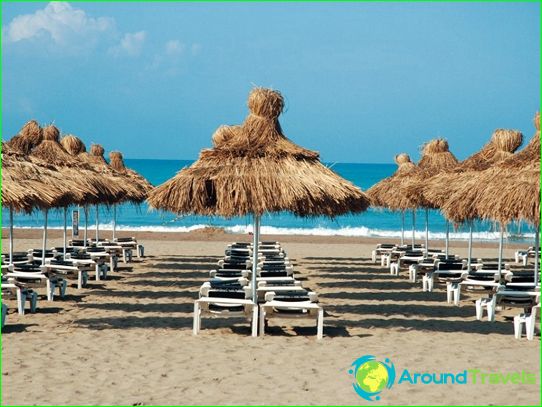 Belek resort is considered to be a luxury, it isIt located in a beautiful location unbeatable. Here it preserved wilderness, because most of the territory is occupied by the National Park and Reserve. Tourists are attracted by the magnificent pine and eucalyptus forests, smooth sandy beaches, unique representatives of birds and animals, well-developed infrastructure and excellent service. Almost all the hotels in Belek have 5 stars, only a few - 4 stars, the length of the beach line of 29 km.
Beaches in Belek are clean, whatawarded the European Blue Flag. Recreational equipped with comfort and thoroughly thought through. There is stand-alone and umbrellas and sun beds are located under one tent, and cozy bungalows. It all depends on the tourist preferences. On the beach you can buy without fear of water and food. For active tourists also have something to do: there is a modern water park "Troy", when it is the Dolphinarium. From water activities presented scuba diving, parasailing and jet skiing. And, of course, not to mention the numerous golf courses, of which there are 16 pieces.
The best sandy beaches in Belek stretchpretty wide strip and covered quite a large and heavy sand, so he quickly falls to the bottom, leaving clear water. This is the best place in Turkey for families with small children, since they are all with a gentle descent into the water and soft sand. It is also a distinctive feature of the beaches is a fresh, clean air, which has healing properties due to the fragrance of eucalyptus and pine forests, which are very close to the coast approached.
Apart from the central beach of Belek is alsopay attention to the quiet, cozy semi-wild beach that belongs to the hotel "Robinson Club". This beach is located 8 km from the town of Belek and occupied an area of ​​100 thousand. M2. The name of the hotel and the beach is not accidental, because the area is really a desert, with beautiful and unique nature, beautiful bay and pebble beach.
The tourist season in Belek spring traditionally open windsurfers that only a hand strong winds typical of this time of year.
Dikovinka sandy beaches of Belek
At night, some of the beaches in the resortclosed due to "honor rating" - a rare species of turtles (especially Loggerherd turtles) that crawl on the local beaches to lay their eggs in the warm sand for the past thousands of years. This unique natural phenomenon surprises and enthralls tourists and attracts attention to the beaches of environmental organizations.
The main advantages of Belek beaches:
Purity;
Soft, yellow sand;
The gentle descent into the water;
Fresh air;
Excellent service;
The development of modern infrastructure.
Photos beaches of Belek