Areas of Bodrum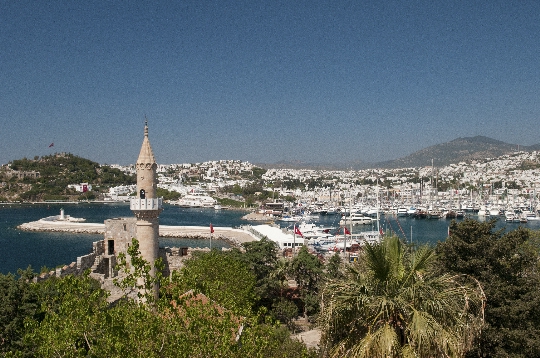 Those who are interested in the areas of Bodrum canlook at the map of the Turkish resort, after which a detailed look at each of them (the rest in different areas aimed at both the youth and the families with children).
Name and description of the main resort areas of Bodrum
Bitez: ideal for beginners and pros alike who want to hone their skills in windsurfing (there are annual competitions).
Ortakent: Guests will appreciate the beach, which flies the Blue Flag, and the water park "Dedeman" (has 24 water slides, of which stands out "Giant Slide" and the "Big Hole" with light and sound effects).
Torba: here it is to strive for those who wish to enjoy the peace and local landscape (it will be the perfect backdrop for colorful images), as well as the underwater life of the Aegean Sea. It is worth noting that Torba marina can be a starting point in Didim - travelers who get there by boat, it is recommended to admire the ruins of the ancient temple of Apollo.
Gumbet: local beaches offer a relaxing environment for swimming, windsurfing, canoeing, parasailing. For shopping suit "Mygros" and "Gima", and for fans of the night life - disco "Queen Vic", "Hemera", "The Shamrock". As for excursions, the travelers will be able to explore the Saldyrshaha tomb.
Holidays in Bodrum involves inspection of his principalattractions - Myndos Gate (to the present day the ruins of two of the three parts of the gate are carried out restoration work in 1998), the mausoleum of King Mausolus (now tourists can see the foundations and fragments of columns), St. Peter's Castle with the Museum of Underwater Archaeology (is the repository of ancient manuscripts , early Islamic glass collection, golden seal of Nefertiti, and even then you can see the remains of the ship lifted from the sea bottom "Uluburun"; it is open from Thursday to Sunday).
Where to stay tourists
Bodrum - noisy and rave city, so ifthe purpose of your trip - to spend time with the kids, it makes sense to look at the means of accommodation in Bitez (in addition to upscale hotels offers affordable pensions and shallow beaches with clear water) or Torba ( "sheltered" in the main 5-star hotels, family orientated ).
If you are interested in Gumbet hotels, they will delight you with all kinds of services and entertainment (swimming pools, water parks, animation).
Dreaming about the privacy and tranquility? Take care of finding a suitable hotel in Torba district. Almost all of them are luxurious "fives" with an unusual design and level of service, located at a height (look at the "Rixos Bodrum" or "Club Voyage Torba").
Pictures of Limassol