Holidays in Bodrum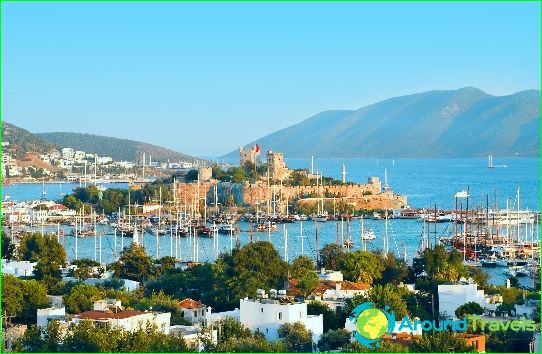 Holiday in Bodrum - a stunning sunsets, gorgeous beaches, beautiful nature, a lot of restaurants and nightlife, an active pastime.
The main types of holiday in Bodrum
Beach: all the beaches of Bodrum are those of certain hotels, so if you want to relax on the beaches, the resort located in the vicinity. For example, a good place for recreation can be Bitez Bay (local beaches were awarded Blue Flag) - here you can go windsurfing and kite surfing, as well as look into the cafes or restaurants. Surfers should pay attention to Yalikavak Beach, fans of all kinds of water attractions - the beaches of Ortakent and lovers of luxury holiday - the beach Geltyurkbyukyu.
Active: Tourist Bodrum has prepared a lot of fun - here you can enjoy sailing, parasailing, scuba diving (divers sure to explore grotto Kara Ada, as well as unusual underwater caves at Orak Island), wind and kite surfing, spend time at a local water park and disco "Halicarnassus Disco "go on a horse ride on the forest area (do not forget to bring a hat and comfortable shoes).
Sightseeing: a variety of tours include the tomb of Mausolus inspection, Myndos Gate, fortress walls and bastions of the castle of St. Peter, a visit to the Museum of Underwater Archaeology (here you can see the ancient manuscripts and wrecks), the commission of a walk to the port, where the moored ships, yachts and boats.
Event: fans attending the festivities is recommended to arrive in Bodrum on New Year's celebration of Kurban Bayram, the festival cyclists (May), Diving Festival (May), International Film Festival (June), Bodrum Festival, accompanied by musical performances (July), Aegean Folklore Festival ( August), as well as for a holiday "Seker Bayram" (October).
Prices of tours in Bodrum
The ideal period for visiting BodrumMay to October is considered. The most expensive things to do in Bodrum implemented in the summer, with prices for entertainment and other services at the resort at this time are higher than in other seasons. Those who wish to save is to pay attention to things to do in Bodrum, realized in low season (it lasts from November to April).
On a note!
If you plan to attend religiousattractions, you should carefully approach the selection of clothing - is unacceptable to go in bright clothes, as well as shorts, short skirts, T-shirts without sleeves. When communicating with local people in any case can not criticize their way of life and show respect to their religion.
Seasoned travelers are advised to bringholiday in Bodrum and spices oriental sweets, fur, leather and onyx, jewelry, Turkish carpets, mosaic lamps, olive oil soap, natural sea sponges.
Holidays in Bodrum
Photos holiday in Bodrum