Prices in Bodrum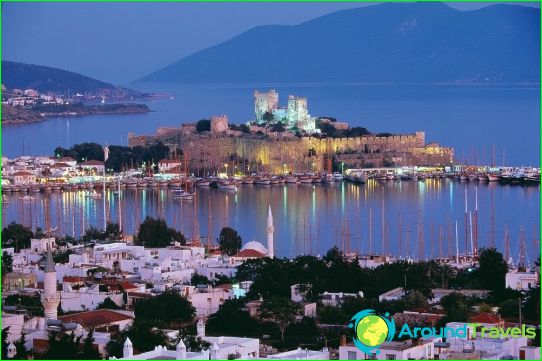 Bodrum is considered to be the best youth resort in Turkey. There are a lot of discos, nightclubs and bars. Therefore, this holiday destination is selected party-goers.
Where better to stay tourists
The resort is famous for its excellent hotels thatprovide perfect service. They are located on the slopes of the giant pit where the town is located. Some hotels are equipped with special lifts, which lowered the tourists down to the sea. Each hotel has a well-maintained beach. Bodrum Hotels have a different star. Here you can live in a modest budget hotel, paying no more than 700 rubles per day.
Usually, vacationers come here on touristpermits. The price includes flights, accommodation and medical insurance. Most of the hotels work on an "All Inclusive". Therefore, tourists are exempt from any hassle associated with finding shelter and food. His time they devote just relax on the beach, parties and excursions. Independent tourism involves booking a place in the hotel, buy a ticket and plan a holiday without travel agencies. All this can be done easily.
Places in the hotel and tickets can be booked in Bodrumonline. A tourist can pick out any hotel that meets his requirements. The 4 * hotel room per night is 1900 rubles and above. In a simpler hotel you can stay for 900 rubles per day. Resort Apartments are very different from standard hotel rooms. In fact, this spacious apartment, where there is a bedroom, dining area and kitchen. Bodrum apartments mostly located in low-rise buildings. Renting a property, the tourist gets the full hotel service. On request, there can be arranged meals, excursions and other services. At prices rent an apartment is cheaper than staying in a hotel.
excursion program
The main tourist activity at the resort - beachrecreation. Bodrum attracts surfers, as there is often windy. Guided tours of the resort is cheap. Attraction that deserves attention - St. Peter's Castle, which divides the city into 2 parts. This building is a museum of underwater archeology. Sightseeing tour of Bodrum is worth $ 25. You can also visit Dalyan and Turtle Island. This tour costs $ 70 for adults and $ 50 for children.
Food
In Bodrum are many excellent restaurants offeringTurkish and Mediterranean cuisine. Eat in the restaurant for 40 liras. A cup of coffee can be ordered at a price of 30 cents to $ 2.5, depending on the restaurant.
Holidays in Bodrum
Photo