Aquariums in Bodrum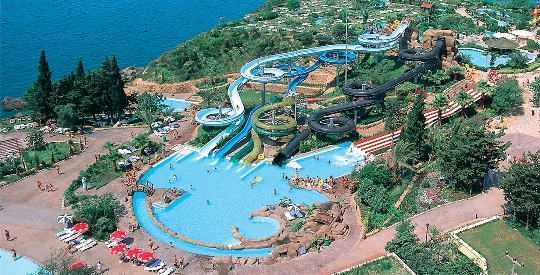 Waterpark in Bodrum is aimed both at the extreme,and more relaxing. As for families with children, they will be able to experience all the "adult" slides, while their children will be supervised by animators.
Waterpark in Bodrum
Waterpark "Dedeman" features:
Jacuzzi, with an artificial river currents and waves, and a variety of pools, including children;
24 water slides - one stands out "BlackHole "(downhill with audio and lighting effects)," Big Hole "(the closed track can be overcome while 4 people on an inflatable raft)," Kamikaze "(down the hill this speed is carried out at an angle of 80˚)," Multislide " (due to the fact that the attraction consist of four strips, it can simultaneously test the entire family);
sun beds, where you can relax in between bathing, sitting under an umbrella or tent;
restaurants and bars (you can order a variety of drinks, ice cream, Turkish and European dishes; all schools there is a special children's menu).
In addition, "Dedeman" can usephoto services, as well as a water park provides rental of balls and circles, and has a tattoo parlor. And after the close of life attractions in the water park never stops - then the fun begins, namely, a disco and various entertainment programs.
Entrance fee: children 0-7 years of age and adults 60+ - free, 7-12-year-olds - 29 lire, kids 12+ - 41 Lira, adults - 49 pounds.
Water Activities in Bodrum
Interested hotels, including swimming pools? Stay in "Ena Boutique Hotel", "Leka Hotels Bodrum", "Marina Vista Hotel" and others.
On vacation is recommended to visit the dolphinariumDolphin Park (3-12 year-olds - 15 Euro, adult - 25 euro, swimming with dolphins - 60 euros): guests will show, which will arrange for their marine animals (dolphins, walruses, sea lions). During the 50-minute presentation dolphins have time to dance, sing, draw a picture, to show the execution of acrobatic exercises, play sports games.
As for a beach holiday, the guests Bodrumbe glad to Bitez Beach (famous for its clean sand, tangerine and pine trees, a convenient entrance to the sea and the lack of depth of cut, which is important for a holiday with kids, active tourists can practice here windsurfing, and even take part in competitions), Akyarlar Beach (family- children's leisure sailing +), OrtakentBeach (on this beach awarded the Blue flag, then you can rest passively soaking up the sun and actively riding on water scooters, windsurfing or parasailing).
Tourists who choose to go diving, will offertake a dive on the island of Orak (inspection of multi-colored sponges, unusual caves, natural 100-meter wall) or Kurt Burun (for dive beginners and experienced divers, because the rock formations can be found at 3 meters depth, which descend up to 30 meters depth - the water can be meet with octopus and moray eels).
Photo