Attractions in Istanbul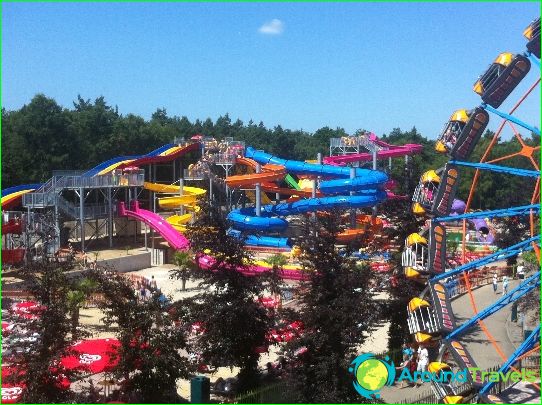 Modern Istanbul - very unusual city. As the largest industrial and commercial center of the country, he managed to keep all their historic heritage and beautiful nature of the South. So today in Istanbul attracts tourists from around the world. We should also thank the father of modern Turkey - Ataturk, which significantly weakened the influence of Islam on the business and culture of the country. This Istanbul very fond of investors and ordinary travelers who were finally able to explore the region without fear of being in trouble, facing a not too friendly-minded advocates of Sharia values. So today, in Istanbul attractions are available to all visitors, regardless of their religious beliefs and tastes.
"Turkish Disneyland» - VIALAND
This amusement park is located on a well-deservedfirst place in the list of attractions. In fact, this city within a city, after the disposal of tourists here are not only all sorts of attractions, but also recreational areas; shopping centers; parking; sports centers; hotels; a cafe; restaurants.
So in this amusement park, you can literallysettle. It is also noteworthy that just a little over ten years ago this place was stinking swamp, poisoned oil and urban run-off, and no one even could not imagine that such a miracle will soon appear here. Currently VIALAND continues to grow, offering more and more new and interesting.
Skyscraper Istanbul Sapphire
Another remarkable place. The height of this skyscraper is 261 meters, making it the tallest building in Turkey. On the territory of the skyscraper are located 4D cinema, gardens, swimming pools, golf course, as well as shopping areas, parking, and luxury apartments.
For the tourist attractive because admireneighborhoods you can not only with a viewing terrace, situated at an altitude of 236 m, and from the very top. At the moment, there is not input is brought in tourist guides, but nobody is protected, so you can freely penetrate the roof and make a couple of gorgeous photos.
Turkua Zoo Aquarium
This aquarium covers an area of ​​8 squarekilometers, and its total capacity is 5 million liters! Remarkable in that at the bottom of it passes 80-foot viewing tunnel with a viewing angle of 270 degrees. So every visitor can personally get acquainted with the life of the inhabitants of the water kingdom.
Powered Aquarium daily from 10.00 to 21.00. Price per adult is about $ 10, children - $ 7 (the payment is made in lire). There is an official website https://www.visitsealife.com/istanbul/.
Photos attractions in Istanbul