Beaches in Istanbul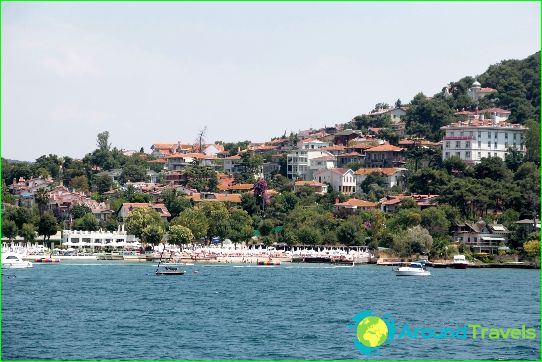 Istanbul - a large metropolis and seaside townsimultaneously. It divides into two parts Bosphorus. From the south washed by the Sea of ​​Marmara Istanbul, and from the north - the Black. The city has 83 beach. Istanbul is a huge city, so the beaches are always full of people, especially on weekends a lot of tourists. I must say that the sea in the vicinity of Istanbul is not the cleanest due to the fact that the Bosphorus and the Marmara Sea, furrowed huge number of ships. In the city there are several popular destinations for beach holidays, as follows:
1. Beach Dzhaddebostan;
2. Beach in the flora;
3. Beach Küçüksu Palace;
4. Beach Yeshilkee.
Dzhaddebostan
Dzhaddebostana beaches are located on the Marblethe sea, the entrance to which is free. On these beaches are well developed infrastructure: there are showers, a cafe, toilets, you can hire sunbeds and umbrellas. To get to the beaches by bus or water transport.
Florya
This beach is located on the shores of the Marmarathe sea, its length is about 840 meters. Entrance to the beach is 15 pounds. Officially, he works till 19.00. The beach is sandy, with good infrastructure, there are sun loungers, umbrellas, toilets, showers, changing rooms and café. To get to this beach is to Sirkeci station on the train, they go often enough.
Küçüksu Palace
Sandy beach Küçüksu Palace is located in the Asianside of the Bosporus. This small beach (about 300 meters), it is free. There are showers, changing rooms and toilets. To get to this beach is on the water transport and bus.
Beach Yeshilkee
It is located on the Sea of ​​Marmara, a length of about 660 meters, you can take a rented deck chairs, umbrellas, there are showers, toilets. Getting to the beach is possible by train or bus.
The best beaches are located in Istanbul onPrinces' Islands. This is a group of small islands, which are located in the eastern part of the Sea of ​​Marmara, near Istanbul. Previously, they were a favorite vacation spot of the Byzantine princes. To get to the island, you can straight from the marine station Kabatas, ferries depart every hour here, but passage is worth three liras. To get to the island you will need more than an hour of time during the voyage can feed pesky seagulls and enjoy the unforgettable sea views.
The archipelago includes many islands. Each of them has a lot of beaches that are equipped with everything you need to relax and have a unique fairy-tale atmosphere. Visiting Istanbul, simply can not go on the Princes' Islands.
Photos beaches of Istanbul