Istanbul for 4 days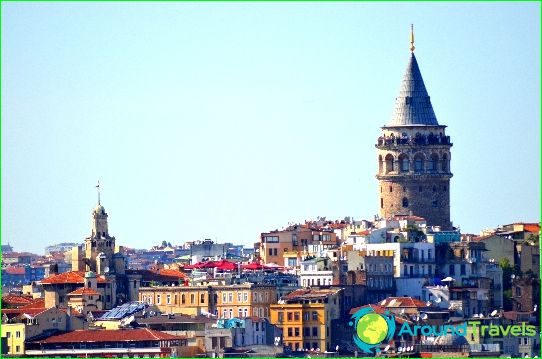 Bored in the Turkish Istanbul, yet no onesucceeded! Mosques and temples, colorful bazaars and coffee houses, towers and palaces, bridges and gorgeous views - the city leaves a pleasant impression at all, without exception. Feel the spirit of Istanbul for 4 days, and learn to understand it - it is a real challenge for those who are not accustomed to sit in the hotel room.
The main pearl of Istanbul crown
Thinking over the route, we should start with the most important architectural and cultural treasures of the city, linking Europe and Asia:
Topkapi Palace, where you can immerse yourself in the story,great views and enjoy the contemplation of unique treasures. Built in the middle of the XV century, the palace for a long time served as the residence of the Ottoman rulers.
The Blue Mosque, which can be seen from many points ofcities. Elegant and luxurious, simple and intricate, the mosque serves as an ornament of the Istanbul streets and that it leads the way everyone had flown to Istanbul for 4 days. Blue flicker of ancient frescoes and tiles, cool gray marble fascinate and give the construction of delicacy and lightness. At night, the mosque is illuminated and looks even more beautiful.
Cathedral of Hagia Sofia - one of the greateststructures on the planet. Built in the VI century and previously served as Patriarchal Orthodox Cathedral, a temple over a thousand years was the largest in the Orthodox world, has not yet yielded to the Roman Basilica of St. Peter.
Basilica Cistern, where gloom permeated the lights andall to the wish-fulfilling column is not reduced nor on the meter. Top hours to visit - early morning and evening when the organized tour groups do not interfere with unhurried and quiet contemplation of the mystical place with amazing acoustics.
Cruise for a few hours
An excellent opportunity to see Istanbul from the waterIt opens during a cruise on the Bosphorus. From here you can see how very different European areas of the city from its eastern streets. Mosques Minarets soar into the blue sky, like a candle, and in the evening on the city lowered the purple twilight, and lights İstanbul millions of colored lights.
Dinner can be organized in Istanbul for 4 daysany part of the city, but the most colorful fish restaurants are open on the Galata Bridge within walking distance from the tower of the same name. Strong coffee, oriental sweets and delicious desserts from fruit and ice cream are attached!
Istanbul - a city on two continents
Photo