Istanbul for 5 days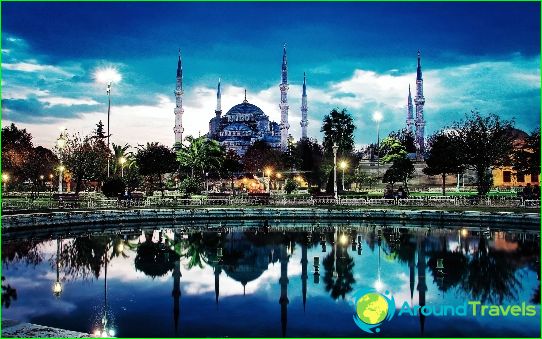 Travel to the fabulous Istanbul - beautifulway to spend a weekend, holiday or short break. The city, where the intertwined and magically get along western and eastern traditions, attracts fans and architectural monuments, and history buffs, gourmets and for which the best way to relax is the possibility of tasting new dishes of local cuisine. In any case, the tour "Istanbul 5 days" will allow to explore the city, which many consider the most beautiful in Europe and in Asia.
The strategic position
Start of Istanbul tours can be given in thePalace promontory, which is located at the crossroads of the Bosphorus and the Marmara Sea. Its important strategic location allows you to build in ancient times here monasteries and public buildings. Today the palace cape - a complex of buildings of the Topkapi Palace, which is more than four centuries served as the residence of the Ottoman Sultans.
Today is the Topkapi Palacehuge museum, which brings together the richest treasures: jewelry collections, paintings, sculptures and everyday objects. Once the palace occupied the entire area of ​​the Palace of the cape, but in the modern city of the territory was given over to the park.
Museum of world-class
The Archaeological Museum, located next to theTopkapi Palace - another reason to stay in Istanbul for 5 days. The museum boasts one of the world's largest collections of works of art of different genres. In two dozen galleries of the main building of the museum housed the largest collection of classical antiquities. For the kids opened the Children's Museum and Pavilion Turkish ceramic tiles and is a constant delight of their parents.
All of the main values ​​of the Museum of Archaeology listit is impossible, but is particularly important and are considered the sarcophagus of Alexander mosaic icon of the Presentation. The marble tomb was carved in the IV century BC for the king of Sidon Abdalonima and was named in honor of Alexander the Great, depicted on the plate Throws enemies. The icon is dated VI century AD and is the only known figurative mosaic on a religious theme, which has been preserved since the time of the Byzantine era to the present day.
Crossing Aziyam and Europe ...
Obligatory inspection in Istanbul for 5 days and is definitely recommended:
The Blue Mosque and Hagia Sophia.
Galata Bridge and the Tower of the same name.
Suleymaniye Mosque, and Basilica Cistern.
Grand Bazaar and Istiklal Street.
Istanbul - a city on two continents
Photo