Istanbul Metro: map, photos, description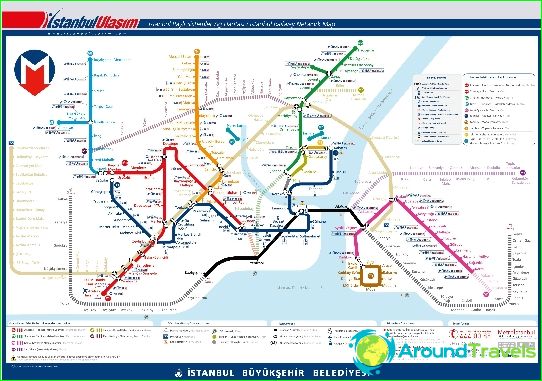 Metro map of Istanbul
Istanbul metro (Metrosu) was opened on 16September 2000 and currently includes four lines M1, M2, M3 and M4, 62 operating stations and 23 under construction. Under construction or planned are line: M5 (Üsküdar-Çekmeköy / Sancaktepe) on the Asian side, M7 (Mecidiyeköy-Mahmutbey) and mini-metro (Levent-Hisarüstü) on the European side.
Istanbul is the oldest in continentalEurope's underground railway tunnel, which was put into operation January 17, 1875. It is a short line of the two stations, in which there is a train of two cars. The line connects the two districts of Karaköy and Beyoğlu.
The construction of the first metro line (M2) began in1991 and the first section between Taksim and Levent 4 was opened after some delay, in September 2000. All stations have escalators Istanbul metro (a total of 87 escalators, 16 of them are on Taksim), and lifts, in order to ensure full accessibility for people with disabilities. Initially the underground served French 4-car trains (Alstom). Istanbul is located in a seismically active area, so the subway was built open way, and according to the project must withstand an earthquake up to 9 points.
By 2015, the existing commuterrailway lines - one on the European side (Sirkeci - Halkali, 27,5 km away, every 20 minutes), and one on the Asian side (Hayderpasa - Gebze, 44 km away, every 20 minutes) will be upgraded, and then linked to the Marmaray tunnel. Intercontinental railway tunnel will also be used for long-distance trains.
Istanbul Metro stations are similar, although the colors in the design of each station is different. platform length is 180 m.

Hours of Istanbul Metro
Istanbul metro is open from 6:00 to 24:00. Depending on the time of day and the line intervals of trains vary from 4.5 minutes to 5-15 peak at another time.

Tickets for the metro of Istanbul
How to get to the metro of Istanbul as otherpublic transport (bus, tram, boat and funicular) you can pay a one-time plastic tokens or cards. Directions to Istanbulkart card will be cheaper, but for the card you have to pay.
Photos of Istanbul Metro