Viewpoints Istanbul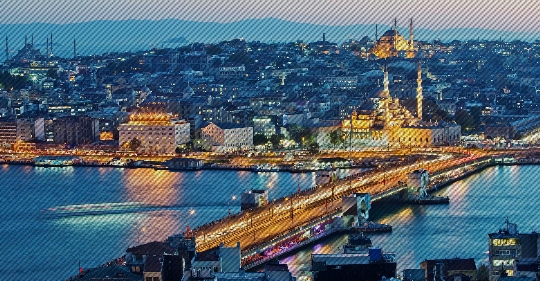 Climb to the viewing platforms with a height of Istanbul can see the Golden Horn, the various monuments, including those created in the times of Byzantium and Rome.
Galata Tower
The tower height of 60 meters, allows its guestsstunning views of Istanbul, the Golden Horn and the Bosporus (the observation deck at a height of 52 meters gives visitors one of the 2 lifts). In addition, the tower will be able to find a souvenir shop, a nightclub and a restaurant. Ticket price - 25 pounds.
Address: Buyuk Hendek Caddesi
Istanbul Sapphire
The roof of this building "sheltered" glazeda viewing platform at a height of more than 230 m (with panoramic views of Istanbul and the Bosphorus; see everything close-up set of binoculars will allow for the use of which will be asked to pay 1 lira). The rise to the observation deck at the price paid 18 lira (high-speed elevator is moving at a speed of 17 km / h). Immediately give visitors the opportunity to experience Skyride attraction in 4D format, which consists of committing a virtual helicopter flight over the city (ticket price - 28 TRY).
Address: Levent, Eski Buyukdere Caddesi 1.
Suleymaniye Mosque
In the back yard of the mosque, which is located on a hill, you can find a site for review, where guests can admire the Galata Bridge, Maiden's Tower, part of the Bosphorus, Hagia Sophia.
How to get there? Before stopping Eminonu wishing to deliver high-speed tram, then you need to walk less than 5 minutes (address: Prof. Siddik Sami Onar Caddesi).
Istanbul View from the hills
Camlica Hill: hill, height 260 m, serves as one of the best lookouts - hence be able to admire the Topkapi Palace and other sights of Istanbul and the Marmara Sea, Princes Islands, Bosphorus Strait. In addition, it should go through the walking paths surrounded by greenery and a glimpse into a little Turkish coffee shop. How to get there? Moving from Taksim Square by bus № 129T, you need to get off at "Turistic Camlica Tesisleri".
Hill Nafi Baba: here is Dogatepe park, with panoramic views of the Bosphorus, Anadoluhisarı Fortress, Fatih Sultan Mehmet Bridge. How to get there? From Taksim Square to the final bus stop № 559C.
Pierre Loti Hill: up to the observation deck and the eponymous cafes, tourists will be able to get first to the bus number 99, 36 CE, 44B to stop Teleferik (Eyup district), and then by cable car (the way takes about 3 minutes; cost - 4 lira).
Hill Otagtepe: Walking through the park (there grow about 15,000 plants), located on a hill, vacationers will be able to admire the strength of Rumelihisari, bridges, the Bosphorus. How to get there? These tourists will take buses number 15, 15p, 15m, 15t (stop "Dolaybagi").
Photo