Istanbul Suburbs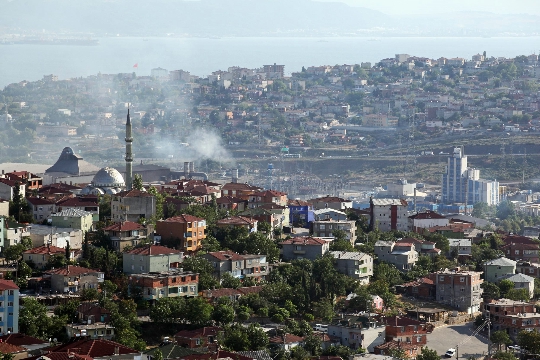 Luxurious and versatile, western and eastern,bright and colorful, Istanbul rightfully called the "city of contrasts". It can fly many times and did not even see a little bit of its landmarks and attractions. Experienced guides will recommend to travelers who are tired of the palaces of the sultans and mosques, walk through the suburbs of Istanbul, where there are no crowds of tourists with burning eyes, and cute and interesting places, on the contrary - in abundance.
In reference to the Princes' Islands
This small archipelago in the Sea of ​​Marmara inthe Byzantine Empire, served as a place of exile objectionable princes and other nobles. After many centuries, the islands became a prestigious holiday destination of wealthy inhabitants of Istanbul.
The current value of this archipelago -Travel. It is possible to reach by ferry and car traffic in this suburb of Istanbul prohibited. The only way to move on to any island - a carriage drawn by horses cute.
According to the Marmara Sea
Eskihisar - one of the most famous suburbsIstanbul from boating fans. This fishing village is famous for its marina, which can be rented and go sailing on the Sea of ​​Marmora. On a clear day views of the city offers fantastic!
The sights of the historic propertiesEskihisare only two, but they are worth and ten. Erected during the Byzantine domination the fortress well preserved for his age, and to visit the tomb of Hannibal will be interesting to every traveler who is interested in military history. Details about Eskihisare tell the guides in the local museum, where with great love interesting artifacts collected.
For body and soul
About an hour talking to this suburb of IstanbulMarine tram, turning a trip to Silivri in interesting and scenic stroll. The town is famous for its spa centers, where there is the opportunity to enjoy superb treatments for body and soul. Thalassotherapy and massage, body wraps and purifying peelings, oxygen cocktails and the most modern methods of skin care products - it is only a small part of the list available at the local beauty salon services. The active part of the tourism fraternity will not be bored while waiting. While direct beauty beautiful ladies, men willing to play golf or play sports in the local fitness centers.
Photo