Taxi in Istanbul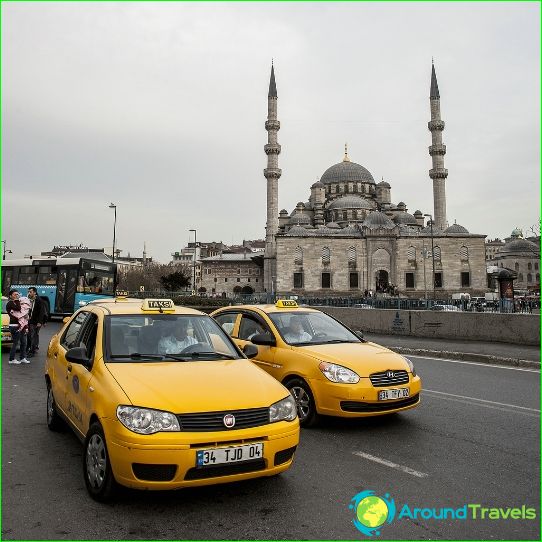 Taxi in Istanbul - it is a convenient means of transportation around the city, with a brief or a trip in the company of 3-4 people can be quite profitable for the price.
Taxi services in Istanbul
Official taxis - it is yellow cars (mostly represented by such names as "Renault" and "Fiat"), which is installed on the roof of "Taksi" icon.
With the search for a taxi in Istanbul, you will not haveproblems - they expect passengers at ports, w / d, railway stations, airports and in popular tourist areas, as well as on city parking taxi (there you will find the sign "Umumaaciktaksi"). Often taxi slows down and go for pedestrians: do not be afraid - because drivers pay attention to themselves (if you need a taxi, you can take the car to suspend the services). Taxi can be carried out at the following numbers: + 90-212-517-00-09; + 90-533-467-07-24; + 90-212-517-00-13.
You do not know how to make it clear to the driver where youyou need to get? Show him a place on the map of Istanbul or ozvuchte name of the destination in Turkish or in English. And if you want you can ask for help from the Russian-speaking employees of hotels, bars or shopping malls - they will carry out a taxi and explain to the driver.
Sea taxis in Istanbul
The provision of services involved in maritime taxiFirm Istanbul Ferries - to his call, send sms or call 444-44-36. In such a taxi to take the payment as cash and credit cards (every 1852 meters are $ 9-13, the cost of travel in the daytime - from $ 13, and at night - from 17 $).
The cost of a taxi in Istanbul
If you are interested in, how much is a taxi in Istanbul, look at the current rate schedule:
Planting costs to passengers in the 3.5-4.5 lira;
each worth overcome kilometers 1,8-2,3liry;
expectations and the cost of downtime in a traffic jam - 0.3 lira (counting starts after 3 minutes of inactivity).
For example, a trip from Ataturk Airport to the area Taximoboydetsya 45 liras from Ataturk Airport to the area of ​​Sultanahmet-40 liras from Sabiha Gokcen Airport to the area of ​​Taxim-82 lira.
Fares should be implemented by the Turkish lyres, but if you want to pay off currency in advance is necessary to warn the driver (in this case, the trip will cost more).
In order not to be deceived, follow indicationscounter (at the beginning of the trip meter must be turned on and reset to zero - it should be highlighted the price of land) and keep in mind that Istanbul is not night and day tariffs (pay for travel performed by a single tariff)! In addition, for the trip from the airport there are no extra charges, as well as additional payments for the number of passengers. The only additional cost to be made by a passenger - a pay tolls on bridges, laid over the Bosphorus.
Give to a taxi in Istanbul is quite safe, and knowing some of the nuances, as described above, you do not become a victim of unscrupulous drivers.
Photos Taxi in Istanbul