Excursions in Istanbul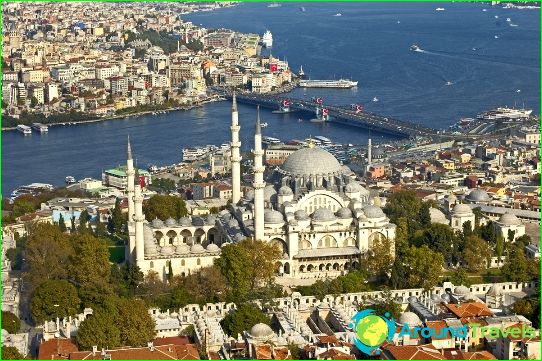 To quote a well-known film, the Istanbul -a city of contrasts. The reason for this his past, because once he was completely Christian city of Byzantium - Constantinople. But then he began the Ottoman, gradually acquiring the Muslim historical values. Therefore excursions in Istanbul promise to be extremely interesting.
All tourist routes traditionally Istanbulflock to one point. Namely - in the Sultanahmet area. There is not only the same name mosque, but in general the whole area consists entirely of historical sights. A centuries-old dispute so also is not allowed: for someone to understand more beautiful - Hagia Sophia Mosque or Sultanahmet mentioned, otherwise referred to as the Blue Mosque, it is not possible - so good, both church buildings. The Blue Mosque, of course, larger. She gave the name of the district of the city. It is also considered the largest in Istanbul. She has an atypical number of minarets - six. This is the Sultan Ahmet I left a mosque, which was superior to many buildings of those years. The plan was a success.
But just in front of the Blue Mosque is locatedSaint Sophie Cathedral. Otherwise, it was called the Hagia Sophia. Judging by the title, you can immediately tell that the temple was a Christian. And almost a thousand years and the cathedral was such, but in 1453 he was destined to become a mosque. Alas, his mosaics were carefully plastered with plaster, and the place of the altar was built mihrab. In the corners of construction are now adorn the stone minarets. But still we must pay tribute, did not destroy the temple. More recently, in 1934, the temple again changed his destiny. Hagia Sophia became a museum.
Mosques, certainly - the main decoration of Istanbul. Before such a solemn beauty can worship even desperate atheists. Sonorous, calling to prayer of the muezzins voice, at certain times merge in a discordant chorus, and then the city's air is filled with them, as if made thicker. This, in essence, the same business card in Turkey, for the voice of Russia church bells.
Istanbul - a huge city, but the high-risehouses are almost not found. He seemed rastёksya the hillsides, repeating features of the landscape. Driving through the city, and then raise and lower, while in gaps between buildings are sometimes seen as a nice shiny Marmara and Black Seas. At the same time, and the city itself can be admired from the water. Sightseeing tours in Istanbul held on pleasure boats, from which can be clearly seen as on the tops of the seven hills towering mosque.
What to visit in Istanbul?
Saint Sophie Cathedral;
Blue Mosque;
Topkapi Palace;
Basilica Cistern;
Ortakoy Pier;
Galata Tower.
Istanbul - a city on two continents
Tours in Istanbul Photos