Water parks in Istanbul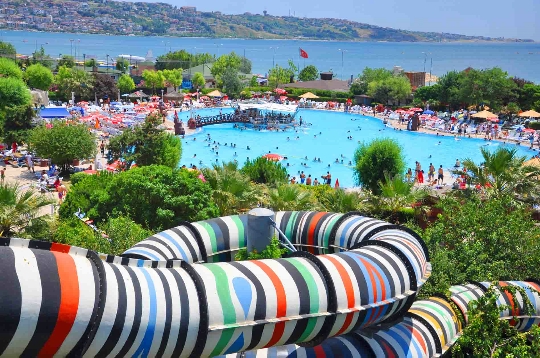 Arriving in Istanbul in the summer, travelers in any of the hot days will cool off and have fun at the same time and in one of the local water parks.
Water parks in Istanbul
Water Park "Aqua Marine" (operating from May toSeptember): he has 12 adults (the length of the longest roller coaster - 100 meters) and 5 children's slides, swimming pools with sea water, restaurants. And the guests are entertained by animation programs. Entrance fee: men - 40 lire, women - 30 lire, children (4-12 years) - 20 lire; use of storage - 3 lira. It is worth noting that those who are tired of having fun on the slides, may move to a nearby sandy beach B.Çekmece.
Water Park "Aqua Club Dolphin": features - pools (children, family, wave), "Space Hole" slide, "the Twister" "Kamikaze", "Black Hole", "Multislide", "Anaconda", "Tsunami", "New missile," " King Cobra ", food places (vitamin bar, ship-bar, restaurant, barbecue). In addition to water rides, this water park for an additional fee you can enjoy a game of water polo, to see the dolphin show (the price is the same as that of the entrance ticket to the water park), photographed ($ 11) and swim with dolphins (10-minute swim with reasonable mammals - $ 100). Entrance fee (only in summer): adult ticket - 20 liras, a children's ticket (under 12 years) - 10 lira (0-4 years old - free of charge).
Waterpark "Coliseum": This water park in the open air is 6 water slides, 4 pools + 1 with artificial waves. And if you decide to take a break from the children, you can move to the pool intended for visitors over 14 years old. Important: "Coliseum" is only in June-August. Entrance fee: TRY 20 / adult, 10 lire / child.
Water Activities in Istanbul
After visiting the aquarium "Turkuazoo", travelerslearn about the sea creatures - manta rays, octopus, piranhas, groupers, visit an interactive center where they show movies about the underwater world (2-16 year-olds - $ 12 Adults - $ 16). And will be able to swim with the sharks (diving with sharks - $ 107).
Fans of beach holidays is to look at theDzhaddebostan beaches in the area (they are equipped with everything you need including sunbeds, cafe and changing rooms). A suitable Burc Beach Club beach for active pastime (offers volleyball, banana boating and catamaran).
Vacationers in Istanbul, it is recommended to go toevening cruise along the Bosphorus (19:30 - 24:00) - you will be able to enjoy a panoramic night views (modern villas, the Ottoman Palace), dinner (you will be treated to local delicacies and drinks) of DJ music, traditional Turkish melodies, folk and belly dancing ( approximate cost - 60 euros).
Photo