Areas Kemer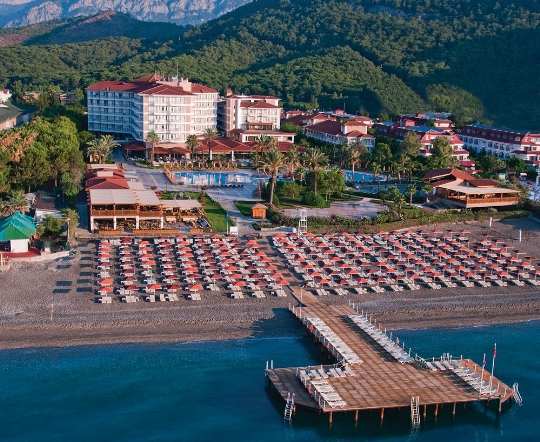 If you look at a map, you can see that the resort area of ​​Kemer includes the city of Kemer and 5 more districts.
The names and a description of the Kemer area
Kemer: a popular place for young people thanks to the bars with exotic cocktails, foam parties and discos, arranged on land and at sea. Guests here will be glad to pebble beaches with a variety of types of water recreation, yacht excursions, complex "Moonlight" with a children's club, a sandy beach, dolphin, swimming pools and a tennis court.
Goynuk: the main attractions of the area are caves, grottoes, beaches, bays, mountains, canyon of the same name (organized horseback riding and hiking). Tahtali Mountain stands out among all this diversity - climb to its summit can be done by cable car.
Beldibi: large-known pebble beaches (some hotels imported them fine sand) and a mountain river, on which rafting tours are organized.
Kiris: It is a quiet place - a paradise for seekers of solitude with nature. The Kiris area you can relax on the small-pebble beaches and diving (local water store the ruins of the sunken city, which can be viewed not only by diving under water diving, but also gone on a trip to this place on a yacht with a glass bottom).
Camyuva: the area is famous for the Paradise Bay - during a night swim here you can admire the glow water (phosphorescent effect is created by a special micro-organisms).
Tekirova: famous for its beautiful beaches and underwater caves, where you can encounter with sea lions, dolphins, sucker fish and other underwater inhabitants. And because the area is located near the trout farm, then wishing to offer catch some fishes in a mountain stream, after which they will be waiting for a meal of freshly caught with wine or beer.
Attractions of the main areas
Travelers are advised to go to Beldibivisit the ruins of Phaselis, and to go to Beldibi complex of caves where archaeologists fragments of household utensils and petroglyphs (cave exploring, tourists should exercise caution - a deep precipice is near the entrance) were found.
it is recommended to take a photo on holiday in Kemer onbackground sculpture "The tenderness and love" with a decorative fountain; pay attention to the water park "Aquaworld" (the guests will have a chance to make the descent from the hills, "Black Hole" and "Twister" and conquer the wave in one of the pools) and "Yoryuk-park", where travelers will be able to see the ethnographic exhibition (it is devoted to the history of Turkish people) to the dwellings, workshops, utensils nomads and their related objects.
Guests Göynük district will be interesting to know whatthere is located Dinopark - visiting him, they will see the 28 figures of the dinosaurs, which at some point begin to move and to issue "scary" sounds (from additional services guests is available as follows: Active 7D-cinema and planetarium; riding a dinosaur and a boat with an electric motor, participation in dinosaur excavations, rock climbing).
Where to stay tourists
mountaineering for you is of interestthe opportunity to wander through the rocks? In this case, preference should be given to hotels in the Goynuk neighborhood. As for tourists with children, they can be advised to stay in hotels in Tekirova - village with small pebbles.
Photos Kemer area