Kemer Beach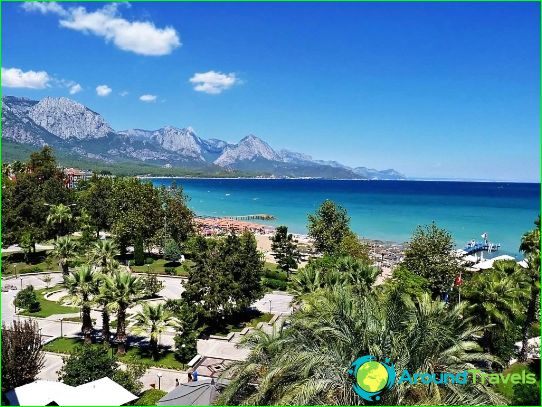 Beaches in Turkey are different picturesque and very high service level, but Kemer beaches are considered among the most popular and beautiful holiday destinations.
Kemer - it's not a very large city located42 km from Antalya. The beaches here are mostly dotted with large and small pebbles, but the rest do not complain. Pebbles is heated slowly, pleasantly massages the feet and does not stain clothes. It is noteworthy that many of Kemer beaches were awarded the "Blue Flag", which speaks about their amazing adaptability to the adoption of tourists from all over the globe. The water here is very clean and on the beach impossible to find a single musorinki, so often workers clean the territory. Absolutely all of the visitors are satisfied with resting on the beach in Kemer, because more and more tourists when choosing a place for the summer holidays are guided by the presence of the "Blue Flag", and almost all of Kemer beaches boast this award.
The swimming season is open in May andIt closed in the second half of October. Even in the midst of the summer heat on the local beaches you can enjoy the sun, because, thanks to its special microclimate of Kemer, the heat is felt here much easier.
The beaches are family-friendly
The best sandy beaches of Kemer can not be comparedwith excellent areas for recreation, owned by the hotel Simena Holiday Resort & Spa HV-1 and Amara Club Marine. The beach is strewn with shingle, which does not prevent to enjoy a wonderful holiday. These urban beaches were named Camyuva and Kiris, and have proven themselves as the beaches for a cozy family vacation. Entrance to the sea is very safe and very easy to use, so even kids who are not very good swimmers, will be able to descend into the water. Sports vacationers can play beach volleyball or try their hand at a professional diving under the supervision of an experienced instructor.
Also, the local beaches offer the following services:
Rental boats and water bikes.
Excursions and boat trips or yacht.
Rental of sports equipment.
Providing beach equipment for all guests.
Playgrounds.
Sandy beaches in Kemer
In the city center you can find a greatsand beach. Its disadvantage is that due to its location, it is very often crowded with vacationers. This beach is called "Moonlight", and it is located very close to the park of the same name. Children will be interesting to visit the local dolphinarium and water park, and adults at this time will be able to ride on the yacht or to test its ability to master the extreme water sports: windsurfing or water skiing.
Photos Kemer beaches