Viewpoints Kemer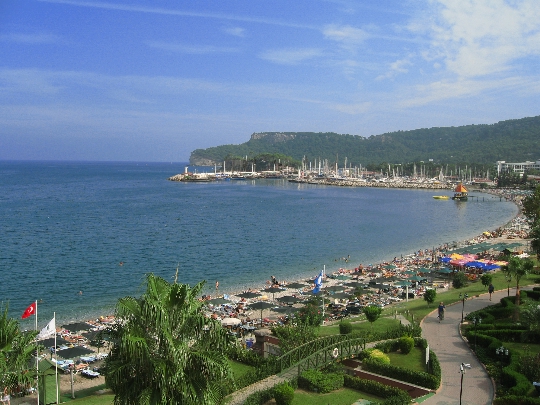 Decided to climb to the viewing platforms Kemerwill be able to admire from the height of the street Liman Park "Yoryuk" with its ethnographic exposition, coastal bars and restaurants, the ruins of the city of Phaselis and other objects.
Clock tower
The tower that adorns the city center, hasa restaurant and an observation deck, which is placed around the perimeter of the tower, which opens an overview on 360˚ (in particular, you can see the mosque and the Taurus Mountains; here is to come in the evening, when the backlight is turned on). And because the front of the tower there are dancing fountains, leisure we recommend that you take a photo on their background (Tuesdays tourists will have a chance to buy spices, vegetables and other goods on a crowded bazaar-down here).
Address: Ataturk Bulvari
Restaurant with panoramic views
"Qualista Lounge": The establishment offers guests feast on Mediterranean cuisine and seafood specialties, as well as enjoy the views opening onto the promenade, sea, luxury yachts. Address: Merkez Mah. Yali Cad.
"Hotel Magic Mount": it is shaped like a flying saucer, and is located at an altitude of 650 m above sea level - there will be able to enjoy the unique cuisine and panoramic views from the rotating observation deck. This restaurant is located at the top of the cliff on the way to Kemer.
The observation deck in Kirishi
Rising here, vacationers can enjoy an aerial view of the coast of Kirishi, Kemer, with its hotels and beaches (it is advisable to bring along binoculars).
How to get there? Lifting can be done on foot or take a taxi ($ 25-30).
Mountain Yanartash
According to scientists, the congestion inside the mountainnatural gas coming to the surface, you can see the "fire-show". Who visited Yanartash see the ruins of the Temple of Hephaestus, and admire the panoramic view (the best views in the evening when the darkness covers the flames). At the foot of the mountain you will find special cash desk - there you will be offered to buy a ticket for 5 lira (breaking the rocky steps, in front of your eyes appear an amazing sight). You can come here, both independently and as part of an organized tour group.
Location: 7 km from the ancient city of Olympos.
Mount Tahtali
Climbing Mount (dominates the Kemer on2000 meters above sea level) is carried out by means of the cable car, the length of more than 4000 m (the upper station is located at an altitude of 2,300 meters, and the bottom - at the height of 726 meters) - this one of the best survey sites will be able to admire the panoramic view of the coast. The fare (up and back): $ 40 / adult, $ 20 / 7-16 year-olds.
How to get there? From Kemer, Beldibi, Kirishi and other settlements to the cable car will be able to get on the shuttles plying daily.
Photo