Prices in Kemer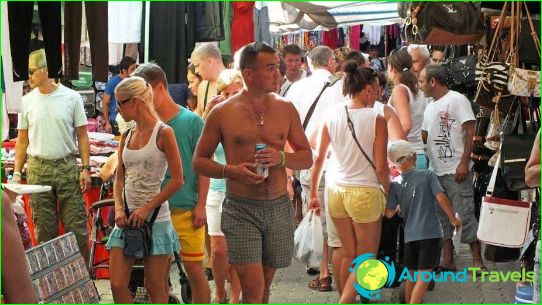 Kemer - one of the resorts in Turkey, whichIt located in the province of Antalya. It offers a great beach holiday, as well as all the resorts of Antalya. Kemer is located in the subtropical zone and is characterized by beautiful scenery. The size of the city gives way to Antalya, but its infrastructure is excellent. Prices in Kemer available for tourists from middle-income countries. Vacationers are happy to use the services of local hotels, boarding houses, removable apartments, restaurants and shops.
Beach season lasts from the middle of the resortspring to October. In the summer rainfall is rare, and the clear weather pleases tourists daily. In the Kemer a little sightseeing. Therefore, without exploring the area, there is not enough. In town you can visit Moonlight Park, where the beach and the Dolphinarium, bars, swimming pools and cafes. If you decide to travel outside of Kemer, be sure to take a stroll through the National Park of Olympos.
What can you buy in Kemer
The most popular item at this resortconsidered fashionable clothes. In shopping centers have a wide range of clothing for the whole family. Tourists acquire in Kemer, jeans, shirts, coats, knitwear, coats and leather accessories. There actually buy gold jewelry and branded products.
Where better to buy clothes
It is best to visit the Ataturk Boulevard, whereIt located a lot of good shops. If you are interested in fur and leather, they should be purchased in boutiques. Shops that sell leather goods, offer a variety of fashionable novelties. There you can buy beautiful handbags, backpacks, belts, wallets and accessories. If shopping is not enough you can visit Kemer market, where it is accepted to bargain.
What are the prices in Kemer
Getting the goods at the resort, keep all receiptsbefore departure from Turkey. tax will be deducted from your purchase amount. On clothing prices are quite low. But they are fixed in some stores. Therefore, sellers do not discount it. Buy cheap clothes can be on the market in Kemer. If you are actively traded, you will throw off the price twice. The cost of goods depends on their quality. Do not buy too cheap things. They may be the Chinese who sell under the guise of Turkey. Quality leather jacket and sheepskin is worth at least $ 500. Coat can be bought for $ 400. But most of the products in this category differ in price of about $ 1,500 and up.
Rest in Kemer
Photo