Attractions in Kemer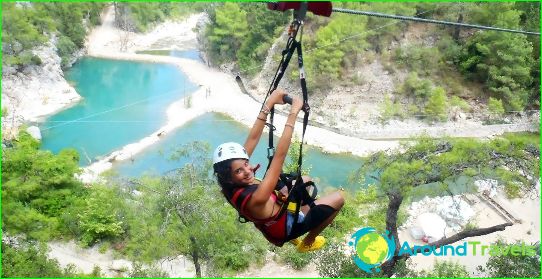 Kemer Resort is certainly well known to everyonedomestic tourists, though many times in Turkey. Remarkable fact that virtually every hotel most of the staff understands in Russian, which certainly is a plus. In general, until recently, the resort could not be called a particularly lively, and the bulk of the tourists was a couples with children who want to peacefully splash on the beach and in the hotel's swimming pools, as well as around the local markets and shops a few times. Now the tourist infrastructure in the region is actively growing, and attractions in Kemer are consistent with the capital.
Park "Moonlight"
Definitely worth a visit. It is located just off the main harbor and occupies an area of ​​over 55 square kilometers. In this area there are: unspoiled beaches; Dolphinarium; fabulous children's mini-town; tennis court; dozens of classic rides.
In general, for those who do not want to turn sour in theirhotels will soon pay a visit here. After all, in itself free entrance, beach equipment free of charge or for a nominal fee, to the closing work here cafes and fast-food outlets, offering both exotic and classic European cuisine.
And if you want, right from the pier, you can parktake a trip on a yacht or a boat. In the first case, you can count on a long walk, during which will be performed periodically halts for bathing or fishing.
Water Park "Water World"
Excellent modern water park without any frills. There are slides of varying heights, swimming pools for children and adults, over ponds and artificial waves, whirlpool and more. However, unfortunately, in recent years, the local authorities did not bother to upgrade and modernize the water park, so it is slightly inferior to the one that is in many expensive hotels.
However, in fact, the water park is really nice, and the entertainment and attractions there is more than enough, so you should definitely visit. He works from 6.00 to 21.20, ticket price - $ 25.
Dino Park Kemer
In fact, it is a village, which is decorated inthe style of the film "Jurassic Park." Here and there lie in wait for travelers dinosaurs that move and roar quite plausible, so the thrill is guaranteed. Besides dinosaurs there are also a variety of shows, presentations and themed games.
Photos attractions in Kemer