Tours in Kemer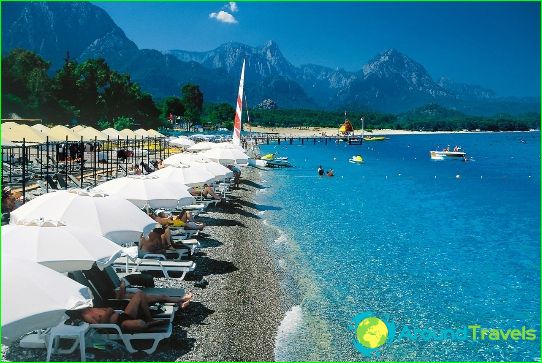 A worthy representative of the Turkish cohort beachresorts, Kemer takes pride of place on the Mediterranean Riviera and becomes a place to relax by the tens of thousands of tourists annually. For Russian travelers the phrase "tours in Kemer" - is synonymous with quality holidays at prices not to punch holes in a solid family budget. If we add to this short flight, almost fluent in Russian service personnel and "all inclusive" the bulk of the hotels, the holiday at the resort can be considered ideal.
History and geography
Location of the resort - much more successful thanothers on the Turkish Riviera. The city closed the Taurus Mountains from strong winds, and therefore formed a special microclimate here, significantly extending the swimming season. Hot summer allows the sea to warm to a comfortable temperature, and +27 in the water for Kemer is not uncommon. You can swim in early May, and the most hardened are doing it in the dead of winter, because the sea does not cool down below 17. During the summer months the heat can reach 40, and therefore the most favorable time for a tour in Kemer - spring or fall.
Once the village, which grew up on the spotmodern resort, shaking debris flows, and its residents began to build a stone wall to protect against them. She was finally built in 1917, and today the stone belt, which stretches more than 20 kilometers, surrounds the mountain. This "belt" is translated from the local dialect, the word means "Kemer".
Briefly about the importance
The international airport is located in Antalya 40kilometers from the resort, so when booking tours in Kemer will have to think about the transfer to the hotel. The easiest way to first get to the bus station in Antalya, where the transfer to a flight to Kemer.
Beaches in the city are covered with pebbles, and so vacation withsmall children are not too pleasant. The only exception - the bulk sandy beach "Park Moonlight", but entry into the water and gravel on it.
Tours in Kemer - a great opportunity to stay active, because the beaches there are conditions for playing volleyball, jet skiing, fishing and yachting.
If a family has young children, things to do in Kemer best book in the area of ​​Tekirova, where the pebbles on the beach is not too large. All the hotels in the city are located on the first line.
Diversify beach holidays here offer a variety of excursions. The most popular - the ruins of the ancient city of Olympos.
Rest in Kemer
Photo