Water parks in Kemer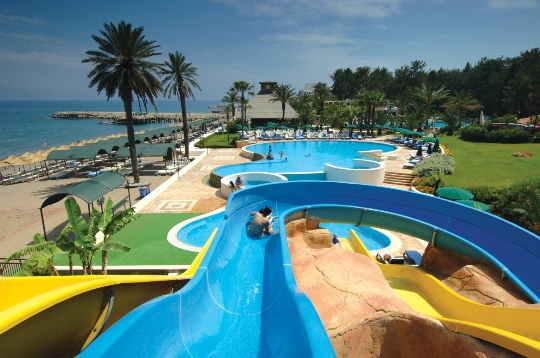 While vacationing in Kemer and around the city, be sure to have fun at a local water park at least for a few hours (it is best to dedicate a whole day).
Water Park in Kemer
Water Park "Aqua World" has on its territory:
extreme descents "Smerch", "Kamikaze," "Black Hole", "Crazy River";
artificial waterfalls, Jacuzzi, swimming pools, including wave, located on the perimeter with comfortable lounge chairs;
calm descent "Lazy River" (boat rides, suitable for family recreation and for small companies);
"Kids Club" with swimming pool and water slides, designed for young visitors;
Bars (functions poolside bar and a vitamin bar "Dolphin") and restaurants (in the menu "Fast Food" presented international and Turkish cuisine, with special dishes here are updated every hour).
Entrance fee - $ 15, and after 14:00 -10 $ (price includes registration of accident insurance).
Hotels with water parks in Kemer
Couples with children and youth companies shouldlook to the Hotel aqua parks on its territory. Among them are the "Grand Haber Hotel", "Crystal Aura Beach Resort & SPA", "Kemer Resort Hotel" (all of them are equipped with slides and pools, as well as in them has animation and discos).
Water Activities in Kemer
Local beaches will delight guests with the opportunity to rent boats and pedal boats, as well as beach and sports equipment, to go to the yacht and boating.
Attention travelers deserve parkcomplex "Moonlight Park": then they will have to wait a sandy beach, swimming pools with water slides, tennis courts and playground mini golf, Dolphinarium (for visitors to make a show with the participation of pupils dolphinarium, and before submitting them to lecture about mammals; wishing to offer to be photographed and swim with dolphins and children with disabilities - to take part in recreational therapy), catamarans, motor boats, water skiing, playing paragliding, diving (there is a diving school), windsurfing, children's mini club (here you can "attach" the children to animators involved with them). And in the evening there are organized shows with music, disco, various competitions. As for snacks, it offers - dining options with different cuisines of the world.
Interested in diving? You may be advised to use the services of "Octopus Diving Center" - experienced instructors conduct for beginners first introductory lesson and experienced divers will be offered to make a complex dive (1 dive is worth at least $ 40).
Photo