Areas Side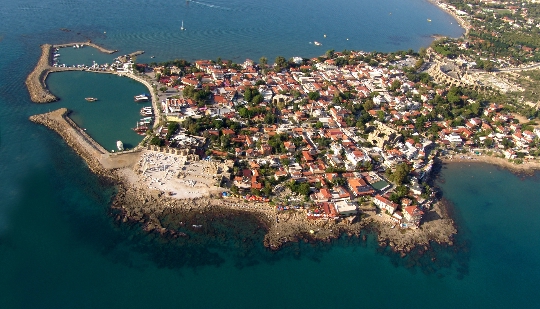 Side areas include not only the resort city, but also the surrounding tourist areas, bearing the following names - Kumkoy, Kizilot, Colakli, Sorgun, Kizilagac, Titreyengol.
Description of the main areas of Side
Colakli: tourists can take a look at one of the two markets, spend time on the beach, covered with a dark-yellow sand (the place is ideal for family and children's activities via an easy entry into the sea and the smooth coast line).
Kizilagac: in the local market, you can get textiles, leather goods, and various souvenirs. It is worth noting that Kizilagac offers 5-star hotels and a club-type hotel with swimming pool and mini-water parks (important for families with children).
Sorgun: then you can go on a boat trip on the Manavgat River, walking (hiking and horseback riding) through the parks and forests, visit the fish restaurants, relax in the "wild" beaches and beaches owned by hotels, dive with a pier stretching into the depths.
Side Attractions
After reading the tourist map,travelers can go to explore the arched gate, Agora (today you can admire the fundamental structures and several commercial premises), the Roman Theatre (used for opera concert, you can admire the preserved masks of tragedy and comedy), the Temple of Apollo (have survived beautiful columns - they illuminated in the evening, the tourists were able to do on the background of a lot of photos), partly preserved buildings of ancient baths, fountains Nymphaeum (the once three-tiered marble structures were only a few surviving fragments), to look into the Museum of ancient art (visitors will see the surviving statues of the gods , will walk for several halls in which exhibited exposure in the form of amphorae, bronze arms and ancient coins; there are still being excavated), go to the Green Canyon (in the reservoir swim, go fishing, boating).
Where to stay tourists
City Side is popular with families with children - then theywill be able to enjoy a sightseeing holiday without leaving the resort to stay in modern hotels of different price categories, find sandy beaches with shallow entry into the water, children's entertainment - both in the hotel and outside.
The most close to the center of the Side area isKumköy (only 3 km), so one of its hotels can choose those whose goal - to walk around the city + combination of beach and sightseeing holiday. In the area of ​​Kumkoy should not settle for those looking for peace, because there is a lot of discos and night clubs, which is why the fun dies down only to 6 o'clock in the morning.
Do you want to be near the beaches and close to the pine forest? Note the area of ​​Titreyengol.
Dreaming of a measured vacation, chic nature (palm groves, orchards, coniferous forests), a hotel with a high level of service? You will approach the area Sorgun.
Photos areas Side