Tours in Side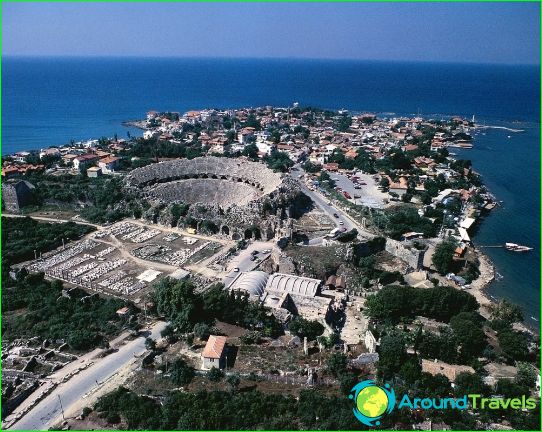 One of the most popular resorts in Turkey, SideLocated an hour's drive from Antalya Airport. Book Tour in Side - a great way to make a perfect vacation on the beach and relax after a busy weekdays.
Briefly about the importance
The Mediterranean climate in the resort guaranteeshot and dry summer, when the thermometer persistently seek to around 40. To avoid the scorching heat, it is best to plan a vacation at the end of spring and beginning of summer or in the first weeks of autumn.
The vast majority of hotels in Side are working onthe system "all inclusive" and have large well-groomed territory. In hotels it is possible to comfortably rest with children or young people now, is just to voice their wishes when booking the tour in Side.
Walking around the city is best to plan for theearly evening, when the heat subsides and all the restaurants and shops open to the public. When ordering dinner should clarify the degree of severity of the selected dishes and portion sizes, which are often more than enough for two.
Necklace beaches
The main attraction of Side - necklace its unspoiled beaches, each of which enjoys great popularity:
The most quiet and calm beach perfect Sorgunsuitable for families with children. There is practically no nightlife, and the aroma of pine forest surrounding the beach, allows you to enjoy your holiday in full.
In Kizilot except golden sand and pebble has a part for those who prefer rocky beaches. It is very secluded, so this part of the resort is particularly suitable for couples and honeymooners.
Trips to the beach of Side Kumkoy selected activetravelers. It adopted a disco till the morning, and other nightlife. A huge number of cafes will allow to get acquainted with the local cuisine very thoroughly, and chain stores will help to resolve the issue with souvenirs for friends and colleagues.
The Çolaklı district - freedom for children. This area is the resort area of ​​Side is famous for water parks and other entertainment complexes for young tourists.
Kizilagac is ideal for fans of eco-friendly holiday in the shade of fruit trees. It is fairly quiet and calm, and local shops pleasing assortment of nice yuvelirki and leather products.
Booking tours in Side, pay attention andlocal historical attractions. The city was founded in the VII century BC, but because of its ancient amphitheater and the ruins of the fortified walls and ancient temples - a worthy occasion to take a tour with a camera in hand.
Photo